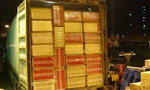 A large stock of foreign made illicit cigarettes worth over Rs.96 million was seized by Excise Headquarters Special Crime Unit from a warehouse in Mattakkuliya yesterday amidst unconfirmed reports of a container illicit cigarettes discreetly being released through the Customs recently.
The detection was carried out following an arrest of a trader in Wattala yesterday morning along with a stock of illicit cigarettes, Excise sources said.
The Excise sleuths, who had been investigating reports that had reached them of a large stock of illicit cigarettes being circulated around Colombo City, had arrested the trader who was transporting 250 cartons of contraband in his van at the time.
On being questioned about the source of this illicit stock of fags, the trader had led the authorities to his warehouse situated on Ferguson Road in Mattakkuliya where they discovered more than 16, 000 cartons of cigarettes.Each carton contained 200 sticks of cigarettes of the foreign brands like Top Mountain and Gold Leaf brand sold in Dubai which the sale in Sri Lanka is entirely prohibited.
The cartons were found neatly packed inside large flat screen televisions, used refrigerators and metal boxes which were suspected to have come from Dubai.
The Daily Mirror learns that the seized contraband was suspected to have arrived in the country in a 20-foot-container which was alleged to have been released from the Colombo Harbour under the influence of top Customs officials.
When contacted, Customs Spokesman Director Leslie Gamini said that there had been no such slip ups according to his knowledge but assured that he would not hesitate to take immediate measures to conduct a probe if concrete evidence of misconduct reached him.
However a separate investigation was being conducted by the Ceylon Tobacco Company regarding the container load of illicit cigarettes that would have entered the local market with the government incurring a massive loss of tax revenue as a result.
The estimated loss of revenue to government through taxes from the illicit products had been calculated at Rs.50 million.
Excise Inspector A R Lambert and Guard Lokupitiya (685) were conducting investigations on the instructions of Excise Commissioner General L K G Gunawardena, and Deputy Excise Commissioner Crimes, Pushpakumara Silva.
(Kurulu Koojana Kariyakarawana)