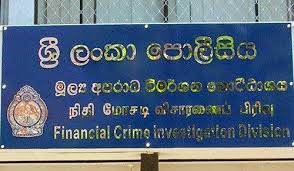 The Police Financial Crimes Investigation Division will not arrest any person who is suspected to have committed grave financial crimes, if he is contesting the forthcoming general elections,until the elections of August 17 are over, as such arrests may prejudice the voters against them or their parties, a senior officer said.
The special police unit which attracted much attention in the recent past by summoning a series of high profile politicians of the previous regime had decided to postpone the arrest of any such person against whom probes had been conducted and concluded, until the end of the elections, the source disclosed.
Instead of arresting politicians regardless of their background or themagnitude of their crimes, the FCID will seek Attorney General's advice on each case, and act after the polls are concluded.
However, a source told Daily Mirror that none of the ongoing probes had been stalled or slowed down as alleged by some. He said the investigations were proceeding at a steady pace.
Recent moves to summon Western Province Chief Minister Prasanna Ranatunga, and his attempts to seek an interim order against his arrest, plus a letter from the Elections Commissioner to allow all politicians to conduct their campaigns without prejudice were he main reasons for the decision, the source said.
Prasanna Ranatunga was first summoned to the FICD on July 13, the day nominations closed.
The unit has received over 1000 complaints regarding major and minor financial crimes, said to have been committed mostly under the previous regime.
(Kurulu Koojana Kariyakarawana)