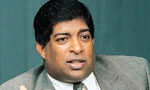 The Excise Department had collected a monthly revenue of Rs. 9,900 million as fines in April this year while it had only collected Rs. 3,300 million as fines in November last year under the rule of the previous government, Finance Minister Ravi Karunanayake said today.
He said the revenue collected in April this year is a clear indication to prove that the Department had increased its revenue during the rule of the new government.
"It is a question of what happened to the extra Rs. 6,000 million of monthly income during the previous government. Also, the previous government had given some 428 liquor licenses while we had given only 28," the minister told a news briefing held at the ministry.
Meanwhile, he refuted the claims by the Opposition members of the previous parliament that the government had imported a number of containers filled with ethanol and had secretly released them.
He said they had only detained one container of ethanol and said the names of the importers would be revealed in the near future.
Minister Karunanayake also refused the claims by former governor of the Central Bank, Ajith Nivard Cabraal that the country's gross official reserves had been decreased.
"I challenge him for a debate so we can prove these allegations are fabrications," he said.
(Lahiru Pothmulla)

WATCH