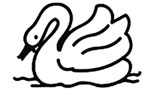 The 'swan' symbol may appear again on ballot papers at the August 17 general elections as the New Democratic Front (NDF) has conveyed its intention to contest the polls, party officials said yesterday.
Mr. Maitripala Sirisena also contested the January 8 presidential election as the common Opposition candidate using the swan symbol of the NDF. Earlier, in 2010, Mr. Sarath Fonseka contested the presidential election using the same symbol.
NDF secretary Sharmila Perera told Daily Mirror that she had notified the Elections Commissioner, as required by the law, of her party's intention to contest the elections.
"We have to inform the Elections Commissioner within a given period of time after the gazette notification announcing the election is issued. We have acted accordingly. However, we have not taken a final decision. We informed the Commissioner as a precautionary measure," she said.
Asked whether top rung politicians had agreed to field candidates under the swan symbol this time, she said, "There is no hurry to act in this regard. There is time enough and more."
(Kelum Bandara)