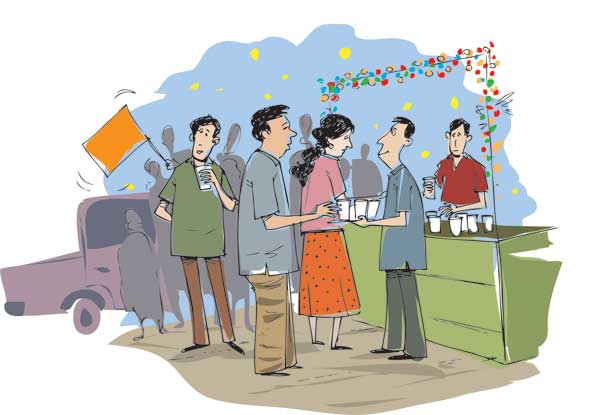 In this Vesak week we need to reflect on how we could go to a more enlightened dimension in some of our customs and traditions such as dansal. This year with the election of a new yahapalanaya Government, the number of dansal was reported to be more than in previous years with more Vesak zones, pandals and huge lanterns. Prime Minister Ranil Wickremesinghe at a Vesak ceremony said there were no casino zones this year, but more Vesak zones. He said there were more dansal, lanterns and pandals because more people had more money and the electricity rates were lower. Party political critics may say there are political undertones in the comments, but they were largely valid.

As for dansal, this virtuous custom began hundreds of years ago when devotees travelled long distances in carts or on foot for pilgrimages to sacred places. There were no restaurants or night boutiques as we have today, so the dansal or danasala were set up to provide food and drink to the pilgrims.

In recent years we have seen a trend towards thousands of dansal being set up to provide not only rice and curry but other items ranging from soup and soft drinks to ice cream. This year we saw the dansal concept being taken into more practical and wise ways. In the Fort and in Matara, the home base of Foreign Minister Mangala Samaraweera, the Foreign Ministry set up wi-fi dansal where the people were given free wireless access to the internet. In Nittambuwa a dansala was set up to give a free hair cut to people. We hope that in the coming years, with the people getting more actively involved in the socio-economic development of the country, we would have dansal providing food produced through organic agricultural methods. On occasions like Vesak we need to promote organic agriculture because in recent decades the excessive use of chemical fertilizers, pesticides and weedicides have seriously damaged Mother Earth, so much so that most of the food we eat contains poison. This has been identified as one of the main reasons why most people are falling sick more often, hospitals are packed and the sacred art of medicine has to a large extent become big business today.

So dangerous is to the chemical pollution of the soil that thousands of people, especially farmers and their families in the North Central Province are suffering from serious kidney ailments, apparently because the ground water also has been polluted. Tens of thousands of these kidney patients need painful dialysis. That was why President Maithripala Sirisena, the enlightened son of a Polonnaruwa farmer, has worked out with China an agreement to build a kidney hospital there with 500 rooms and modern hi-tech facilities. In socio-economic terms, we also need fresh milk dansal. This will need much more work for hygienic preservation of the milk, but it would be worth the effort to promote the often promised revival of Sri Lanka's fresh milk industry.

Till the imposition of the globalized capitalist market economic system in 1977, Sri Lanka had a thriving fresh milk industry. Milk booths run by the National Milk Board were set up at every junction providing plain, chocolate or vanilla fresh milk in bottles. The milk was sold at affordable prices and was popular with schoolchildren many of whom had a bottle of milk during the mid-day interval or after school closed. We remember the popular promotional song of the NLB, "Drink a pint of milk a day, you'll receive good health that way". We also had the milkman coming to our homes, but he is no more.

Tragically, during the 1980s, a trans-national milk giant accused of being a baby killer, was allowed to in subtle ways kill our dairy milk industry. Today Sri Lanka spends hundreds of millions of dollars each year to import processed milk which most people-friendly nutritionists say is not even half as nutritious as fresh milk. Worse still, the trans-national giants are known to use chemicals as preservatives, flavour-enhancing substances and to make the processed milk more soluble. Some of these substances are known to be harmful especially to children, and that is why the Medico-Legal Society of Sri Lanka recently held a seminar on the theme "Are we poisoning our children?" In the years to come we hope that the dansal concept could be taken to a more enlightened level and we would see more dansal which contribute to the sustainable socio-economic development of Sri Lanka in areas such as organic agriculture, safe food and nutrition including fresh milk, and even areas such as high technology to promote creative wizardry.

---
Add comment

Comments will be edited (grammar, spelling and slang) and authorized at the discretion of Daily Mirror online. The website also has the right not to publish selected comments.

---