---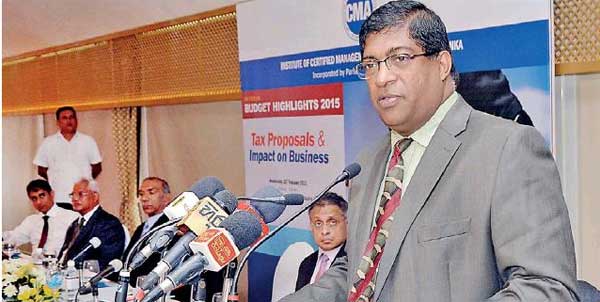 A budget seminar organized by the Institute of Chartered Management Accountants was held yesterday. Following are excerpts from the Q&A audience had with Finance Minister Ravi Karunanayake.

Will the super gain tax be applicable to BOI companies?
BOI companies that have exhausted their tax holidays will fall into it. The rest of it won't because we don't want to in any way discourage any of them by saying we will collect an 'x' amount of figure.

You had a Rs.50 million target from super gain tax. Will inflows exceed it or fall short?
No. We are well ahead of it. I must once again thank all of them. Almost 98 percent have voluntarily come forward. It is difficult for them, I understand that, and they have responded very well. We won't forget that. We said it's a one-off, we will stick to that.

Will new taxes scare away FDIs?
What were the FDIs that were there? You had one from here and something else from t here. All government-oriented FDIs were there. They were using tax payers' money to pay off high interest rates.

There were very few genuine FDIs in the country. That is something we need to correct. Today we have shown that is the only way to come forward.
There are so many investors willing to come today, because our intention is to eradicate corruption, not to reduce corruption. There is no start-up cost. No need to get a hold of people or give privileged perks to family members to get 15-20 percent start-up costs. You start up with zero costs. We will ensure that if you come forward with an investment plan, in 100 days you'll get that approval.

How will you identify those who have to pay super gain tax but have not filed income tax returns?
Don't worry, if they have not, more than the super gain tax will be imposed. Because people who have done their share have to pay the amount of the super gain tax, those who haven't; we'll certainly go after them, because our intention is to reduce the number of taxes from 25 taxes to 15 in 2016.
Please give us the highest compliance on the lower tax systems because we have to encourage you all to pay your taxes in time.

Following your IMF and World Bank meetings, what specific support has the two institutions given Sri Lanka, and at what cost?
The confidence placed on our new government, on the President and the Prime Minister is phenomenal.They said we have no need for balance of payment support, but they promised to support us as much as they could, if there's a run on our currency. If anyone tries to manipulate t he run, because the way the bonds and all were structured previously, there were people who could move out. So we are comforted that such a cushion is being funded by them.

The World Bank wants absolution. They do know that we want finance discipline. Without any condition they have given us 3 to 4 times the normal amount. But we must ensure that it is well spent.

Are telecom sector taxes justifiable?
During the election we got the President wishing you for Christmas, for New Year, to "Vote for me." If these were given free of charge, why can't the innocent consumers get the benefit of it? They were able to take those costs without any complaint. Now is the time the innocent consumers who made them stay there get the benefit with these payments.

How would customs valuations on cars fare?
We have been able to increase customs collections by Rs.12 billion in the past 30 days, compared to the previous year. Excise collection is Rs.4 billion more. It just goes to show how clean the government is . If the head is clean, the rest would follow.

When would senior citizens get 15% interest?
On 1st of April 2015.

How would you ensure private sector increase the wages?
They have consolidated, and we said if they want to they can mix it up on a productivity basis, and I must say they have responded as well.

Will there be any concessionary rates for private sector capacity expansion? Tax concessions?
Certainly, if there are any interesting ones following our national objectives, we will assist as much as we could, because our intention is to assist such companies through open transparency. Even though it wasn't mentioned in the budget, if there are proposals that are good for the economy, on a very transparent basis, we will ensure such proposals go ahead.

Will the 2016 budget be people friendly again or business friendly?
I think even this is 99 percent business-friendly. One percent maybe t he other way. Whether it's a Robin Hood in a full suit or Saradiyal in a national kit, we were able to give 99 percent of what the country requires.

Certain quarters say that even this government is conducting intervention policies. For example, daily intervention on exchange rates. How do you promote exports having an overvalued currency?
Tell me whether the export sector has been affected? I ask this because I must tell; the previous administration did a good job at maintaining the rupee at the expense of exports.So don't take t he cost of an import-based economy. Rs. 50 billion has come in from import taxes.

Until t he economy is able t o meet up a huge surge in exports, we certainly will not play around with the economy at the expense of the tax. This is why exports must be able to get up and compete in real terms, and various supporting methods are available but certainly, devaluation is not the answer.

With regard to hybrid vehicles, what is the rationale, and what is the final decision?
The final decision is the same that was spelt out on 29th of January 2015. This is not a government that says one thing and changes it in the afternoon. We mentioned that there are 25,000 vehicles coming here.

We wi l l collect revenue from people who can afford it. We reduced the duty component on less than 1000cc. Above the 1000cc, we increased the hybrid component. Only the traders will be affected.We have told that any person who opened the LC before the 29th, should come and forward with bona fide LC, then we will give at the old rate. Only the traders are making this mischief. They had 2,000 cars in town. When we mentioned the cost would go up by about Rs.8 lakhs, they sold for Rs.8 lakhs.

People are saying that by doing this you aren't supporting the environment?
That is why we made electric cars 5 percent. If you want to be really environmentally-friendly, that's the solution.

What plans to restore stock market confidence?
It's a sensitive issue. We will address the issue carefully.If we find anybody in the process of attempting to dump and pump, we will ensure that very strict action will be taken. We will take analysis of certain people. About 98 percent is held by 3-4 percent. We are not allowing the 3-4 percent to dominate the market anymore. There are compounded cases, nearly 13. We will ensure that these matters are reviewed. There is justification that this needs to be done, and will be done in the future, because we want people to have confidence of not being bullied.

Will Golden Key depositors get relief before the end of 100 days?
Yes, we called that one. That situation was completely mishandled by the previous government and Central Bank. Ulterior motives create problems.

Those people languished for 6 years without any major relief. We called the Ceylinco group of companies to address this case, and I must say we got a resolution which was very concessive, that was already sent to courts. We will ensure they will get back to depositors of the failed companies and all assets liquidated, so that they get back the maximum.
---
Add comment

Comments will be edited (grammar, spelling and slang) and authorized at the discretion of Daily Mirror online. The website also has the right not to publish selected comments.

---