---

e join millions of Sri Lankans in saying a hearty Ayubowan, Vanakkam and Assalamu Alaikum to Pope Francis who since his election in March 2013 has emerged as one of the most loved, most respected and most powerful servant leaders in world history.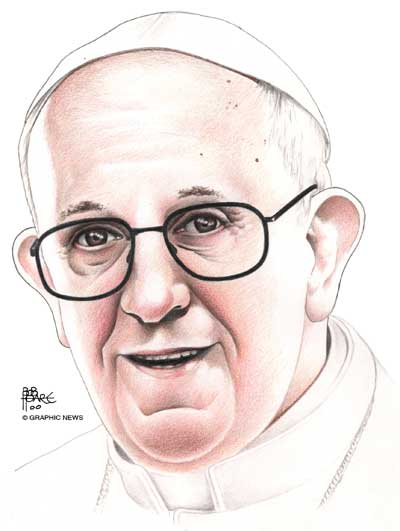 The Pope, who arrives in Sri Lanka this morning for a three-day pilgrimage – the highlight of which will be the cannonisation of Sri Lanka's first saint the Blessed Joseph Vaz at a historic Galle Face Green Holy Mass tomorrow – has earned the respect and reverence of billions of people mainly because of his simple and humble lifestyle. Like his Lord and Master Jesus Christ, Pope Francis has become poor to deeply unite with the poor and marginalised people. He leads by example, which is more powerful than a thousand sermons or messages. He practises what he preaches and preaches what he practises.

On the day of the election, Popes down the ages have come to the Sistine Chapel balcony where tens of thousands of devotees wait for the first blessing. Pope Francis overturned this tradition by coming to the balcony to ask the people to bless and pray for him. That was his first exemplary sermon on feet-washing.

Happily, Sri Lanka's newly-elected President Maithiripala Sirisena, launching the 'Maithiri Palanaya' or the reign of love from the Sri Dalada Maligawa on Sunday, also pledged to usher in an era of servant leadership instead of the executive presidential system which spawned all-powerful domineering and plundering politicians and officials. As the Pope is doing, President Sirisena pledged he would be the chief servant leader and after serving the people for one term only, he would bow out gracefully.

After his consecration, the Pope said he did not wish to live in the Papal Palace and moved to a simple room in a Vatican guest house. For his first mass with the cardinals who elected him, the Pope went to Church in a bus with them, while the Papal limousine waited in vain with the Swiss guards wondering where the new Pope had gone. Even as the Cardinal Archbishop of Buenos Aires, he had lived in a simple room, cooked his own meals and travelled by public transport. Alpetchchathawaya. The hierarchy in other countries including Sri Lanka need to learn from the Pope and do what he is doing. The Pope has told them to move out of their palaces or sanctuaries and get their feet muddied in labouring for and with the poorest of the poor. We hope that would be one of the spiritual fruits of the Pope's visit. Even Sri Lanka's new Saint Joseph Vaz laboured bare foot in beggars clothing and suffered much to revive the Christianity of a Jesus of Sri Lanka, instead of the colonial Western models foisted on us by the Portuguese, Dutch and British invaders. We hope the canonisation will revive a Church of Sri Lanka, a Church of the poorest of the poor in line with the vision of Jesus Christ and His servant Pope Francis.
Outlining his vision and goals, Pope Francis has said he is giving top priority to world poverty alleviation through social justice and a more equitable distribution of the world's wealth and resources. It was indeed a blessing that Sri Lanka's new President, in his first message to the nation, also pledged that his foremost priority would be poverty alleviation by substantially reducing the cost of living and increasing the salaries and other facilities of public servants and other workers.

Pope Francis has said another priority area will be world conflict resolution through dialogue. This was seen in the secret diplomacy the Vatican conducted with diplomats of the United States and Cuba. On December 17, to mark the Pope's 77th birthday, US President Barrack Obama and Cuba's President Raul Castro announced they were restoring diplomatic relations after more than 50 years -- a move that will benefit tens of millions of people especially in Cuba.
The battle against climate change, effective moves to provide healthcare, education and job opportunities for all are among the other priorities of the Pope. Instead of being judgmental and condemnatory, he has called on the Church and the world to be more compassionate and merciful to those trapped in issues such as broken marriages or divorce, sex workers, same-sex couples and others in similar situations. He has also said that unless an equal place is given to women, the Church and the world cannot bring out its full potential.

Again we say welcome Pope Francis, may your visit help consolidate Sri Lanka's new era with lasting peace and deep unity in diversity for our people of all religions, races and social status. Viva il Papa.

---
Add comment

Comments will be edited (grammar, spelling and slang) and authorized at the discretion of Daily Mirror online. The website also has the right not to publish selected comments.

---