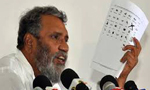 Elections Commissioner Mahinda Desapriya said today election violence appeared to be increasing and warned that he would have to call for re-polling in areas where such violence continued unabated.
He told a hurriedly summoned news conference that there was the possibility of election violence rising in the wake of the shooting incidents and attacks reported during the past few days, along with some assault cases.
"I am sad that this trend of violence is increasing and is a serious form of election law violation, Mr. Deshapriya said.
Also, he said the prevention of voters from turning up at polling stations, and the collection of their poll cards and Identity Documents were serious offences. He noted he had derived powers to annul the poll in such instances, from a court ruling delivered in 1990s.
"During that period, voters were not allowed to proceed to their polling stations citing security reasons. A fundamental right case was filed. The court ruled against officials responsible for it. There are several important court rulings that legally strengthen my hands in taking action against wrongdoers. There is fear that voters will be blocked this time. I want to allay such fears. I have powers to act in such instances against anyone trying to block voters," he said.
Mr. Desapriya said only the police personnel would be assigned for election related duties.
"I am sure the military will not be involved in any duty at this election. The Inspector General of Police has assured me his fullest co-operation. Only, the police officers in uniform can carry firearms within the premises of polling stations. Security officers, accompanying political leaders, are now allowed into polling stations," he said.
(Kelum Bandara)