---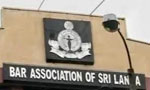 The Bar Association of Sri Lanka (BASL) was today directed by the Court of Appeal to prepare a list containing the locations of unauthorized hoardings and cutouts and hand it over to the respondents by 1.30 pm today (19).
Three Writ Petitions filed by the Bar Association of Sri Lanka, seeking an order from Court requiring the Colombo, Dehiwala-Mount Lavinia and Sri Jayawardenapura Municipal Councils and other relevant authorities to remove unauthorized political propaganda hoardings and cutouts in these areas, was taken up before the Bench comprising Justices Vijith K. Malalgoda and A.H.M.D.Nawaz.
The Petitioners were BASL Treasurer Upul Deshapriya, its Assistant Secretary Ranjith Perera and Rule of Law Committee Member, Priyantha Gamage.
They had cited the Mayors and Commissioners of those Municipal Councils, DIG Gamini Navaratne and the Attorney General as Respondents.
President's Counsel Faiz Mustafa and BASL president Upul Jayasuriya appearing for the petitioners informed Court that the respondents had so far failed to fully implement the election laws and as such unauthorized hoardings and cutouts were still visible in the concerned city limits by violating Section 74 of the Presidential Election Act No. 15 of 1981.
Meanwhile, Deputy Solicitor General Arjuna Obeysekera appeared for the third respondent, the Elections Commissioner (EC) submitted to Court that the EC have already taken necessary steps to ensure a free and fair presidential election. DSG Obeysekera told Court that the EC had sent several letter to the Inspector General of Police and relevant public officials instructing them to fully implement the election laws in view of the upcoming presidential election.
The three petitions are to be taken up again on January 2.
The petitioners said at the Meeting of the Bar Council held on November 29, 2014, it was unanimously resolved that, the BASL should engage itself and through its membership seek to ensure that a free and a fair election is held, as called for by the Commissioner of Elections.
The petitioners said the application was instituted on their own behalf and in the public interest of the residents of the Colombo Municipal Council, Sri Jayawardenapura Kotte and the Dehiwala-Mount Lavinia areas, because of the failure by the respondents to remove a large number of unauthorized hoardings and cutouts that have been erected and the arbitrary decision of permitting the erection of such propaganda hoardings of President Mahinda Rajapaksa and in a few in stances of posters of common opposition candidate Maithripala Sirisena. This was in direct violation of the by-laws and in particular Section 74 of the Presidential Election Act No. 15 of 1981.
These cut outs and hoardings are also in flagrant violation of Section 74 of the Presidential Elections Law No 15 of 1981, which is an offence punishable with fine, a jail term and Civic disabilities. (Lakmal Sooriyagoda)