---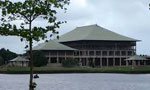 The Government yesterday sought Cabinet approval to do away with the charge imposed on land purchases by foreigners on 99 year lease for investments in the country, it is learnt.
However, the Cabinet Paper submitted in this regard was deferred as some Ministers said it should be done only on conditions stipulated for foreign investors, intending to purchase land.
They said the amount of money to be invested, and the number of employment opportunities to be created were factors to be considered before granting any concession of this nature.
Currently, a charge of 15 percent is levied on the market value of lands to be purchased on lease-hold basis by foreign nationals.
The Cabinet Paper will be considered later. (Kelum Bandara)