---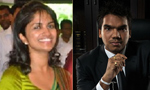 Sujani Bogollagama, who was arrested by the FCID into the two cases conducted under the Money Laundering Act, was released on bail by the Colombo Additional Magistrate Nishantha Peiris yesterday.
She was released on cash bail of Rs. 100,000 with four sureties of Rs.10 million each.
The Magistrate imposing strict bail conditions, ordered the suspects to produce sureties with appropriate documents to prove their assets to represent suspects. And directed to report FCID on first and last Sundays in every month.
The Magistrate also advised the suspects that their bail conditions would be annulled and could be remanded until the case is over if they would interfere with witnesses inappropriately or hamper the investigation.
Prior to the arrest she was being treated at Merchant ward in Colombo National Hospital.
She and five others including Namal Rajapaksa were accused over alleged two transactions worth Rs. 45 million, which had discovered during the main inquiry conducted against them into the alleged purchasing Rs. 100million worth shares of a company called Hello Corp from alleged ill-gotten funds by the Gowers Corporation which is headed by Mr. Rajapaksa.
The two transactions were found by the prosecution as offences that fell under the Money Laundering Act.
Earlier, the prosecution had filed two separate cases against the suspects over the two suspicious Rs. 15 million and Rs. 30 million transactions.
According to the FCID, the suspect Namal Rajapaksa had dealt with a company called 'Boston Capital' and given Rs. 15 million by himself and another Rs. 30 million through one Indika Karunajeewa to the chairman of that company, Mr. Rohan Abey Iriyagolla, in order to conceal the origin of the alleged ill gotten funds.
The prosecution alleged that according to the statements got from the chairman of the Boston Company, the given money was paid to Gowers Corporation and NR Consultancy Companies again, which are headed by Namal Rajapaksa, under the disguise of payments for the services obtained by the Boston Company. (Shehan Chamika Silva)
Video by Courts Prasanna