---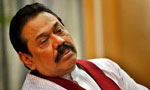 The threats would only be directed to the formation of new parties, former president Mahinda Rajapaksa said yesterday.
Addressing the 19th commemoration of All Island Samurdhi Development and Agricultural Research Production Assistant Officers Society, Mr. Rajapaksa said each and every person had the right to form political parties.
"No force can stop the formation of political parties. It is a normal procedure. There should be enough independence within the country to form new parties. Each person should have its independence to take decisions," he added.
He said the threats would not affect such moves and they would only motivate somebody to form a new party.
"Political thinking of persons cannot be concealed by a threat or any other force. Taking into remand custody will also not affect some one's political life," he added.
He said there were no president in the Sri Lankan history who made such a statement and only former president Ranasinghe Premadasa made such a statement in the latter period of his regime.
He said he would not prefer to continue these discussions further as he has no concern for hatred and envy in his political life.
Meanwhile, he said now the UNP and the SLFP had been combined under the Government's pretext to safeguard the democracy in the country.
"The UNP and SLFP have come to an agreement for two years to work together and now it has extended up to five years. Some politicians declare that they would rule the country in the same manner even after the five years," he added.
He said the policies and the principles of these two parties were completely different. He also said if the Government had wished to use the current procedure even in the future, they would have to dissolve both the parties and form a new party.
"If not the SLPFers who are in favour of the UNP have to recruit in to it and the SLFP should be hand over to the ones who are in favour of it" he added. (Kalathma Jayawardhane)
Video by Buddhi