---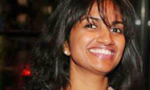 The Colombo Additional Magistrate Nishantha Peiris ordered Chief JMO of the Colombo National Hospital to submit a comprehensive report over Sujani Bogollagama, who is another suspect a suspect in the inquiry conducted under the Money Laundering Act for purchasing Rs. 100 mn worth shares of a company called Hellocorp, using allegedly ill-gotten funds by the Gowers Corporation headed by Namal Rajapaksa.
She is currently being treated at Colombo National Hospital.
The Magistrate called the report in Court on August 22.
The Magistrate made the directive acceding to the FCID officials' request of that the suspect had been admitted to the hospital prior to the summoning of FCID and now being treated at the CNH in paying ward, deceiving prosecution and avoiding arrest. (Shehan Chamika Silva)