---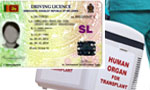 Future driving licence applicants would have to declare if he/she was willing to donate organs according to scheduled Cabinet Papers, Cabinet Spokesman Rajitha Senaratne said.
This will be indicated in the new digital driving licence.
"There is a shortage of organs in hospitals in an emergency because fewer people are willing to donate organs these days. Most of the donors are not healthy. Most of the body donations were late, when they are accepted by hospitals. At that time most parts in the body are already decaying," the minister said.
"Because of that it is decided to insert a statement of consent in the application forms," he said.
"The organs will only be taken after a qualified doctor's approval that the donor had died in an accident and there was no damage to the organs. If the driver had given his consent in the driving licence, then the organs could be used," he said.
The Statement of consent is to be inserted to the newly introduced digital Driving Licence. The Cabinet Paper is to be presented at the next Cabinet meeting. (Chaturanga Pradeep)
Video by Chamilka