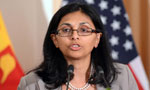 US Assistant Secretary of State for South and Central Asian Affairs Nisha Biswal said yesterday United States would continue to support Sri Lanka as it takes meaningful and concrete steps in response to concerns of its people related to democratic governance and advancing respect for human rights, for reconciliation, justice and accountability.
She said Sri Lanka itself had been on a remarkable trajectory of addressing not only internal issues that had challenged it but also was engaged in broader international community in spirit of partnership and dialogue.
"We will continue to make substantial investments in multiple sectors from agriculture to enterprise development, education, healthcare, energy, nation resources and humanitarian activities," she said.
Ms. Biswal said as Sri Lanka moves ahead with its plans for constitutional reforms for justice and reconciliation, the US continue to partner with the government to faster economic development and encourage foreign investment and to work to advance opportunities for all Sri Lankans," she said.
Participating in a joint press conference with US delegation headed by Ms. Biswal, Foreign Minister Mangala Samaraweera said since the Presidential and Parliamentary Elections in Sri Lanka last year, a series of steps have been taken by the Government, with the support of the people, to uphold, promote and protect fundamental freedoms, strengthen democracy, good governance, justice and the rule of law. Our two countries have managed to elevate the traditionally friendly Sri Lanka-US relationship to a historic high, in a little more than one-and-a-half years.
"It is in a sense, a new beginning for both countries; and we are now engaged in building this relationship as natural partners," he said.
"We also discussed matters pertaining to reconciliation in Sri Lanka; as well as international and regional issues and events that impact on our countries. Apart from discussing ways of making our partnership stronger, including enhancing bilateral trade and investment, we also discussed about enhancing maritime cooperation and Sri Lanka's participation in the 'Our Oceans' Conference aimed at preservation of Oceans, to be held in September, in Washington DC," he said.
Minister Samaraweera said they also discussed the importance of providing an economic peace dividend for the people of Sri Lanka as we progress in the process of reconciliation where he emphasised the interconnected nature of reconciliation and development, and the resources required for the success of both.
The two Assistant Secretaries will call on Prime Minister Ranil Wickremesinghe today at Temple Trees. They will also meet the Leader of Opposition; Senior Parliamentarians and Ministers; and the Secretary of the Ministry of Defence and the Commanders of the tri-forces. They will also travel to Trincomalee on the 14th where there will meet the Governor and Chief Minister of the Eastern Province. (Ajith Siriwardana)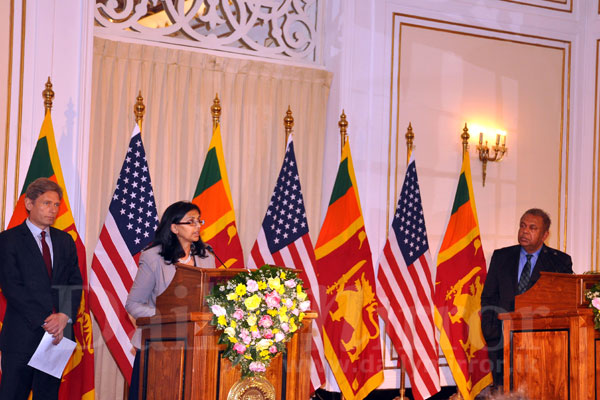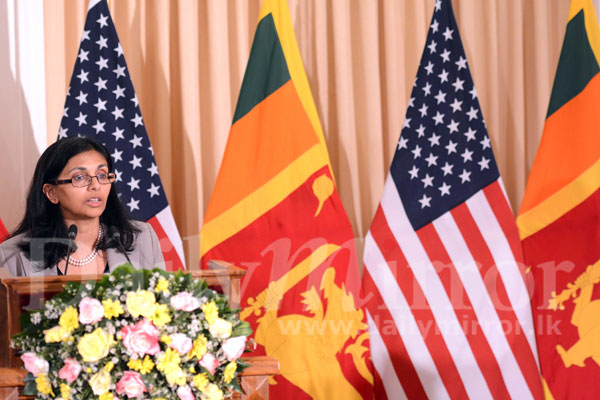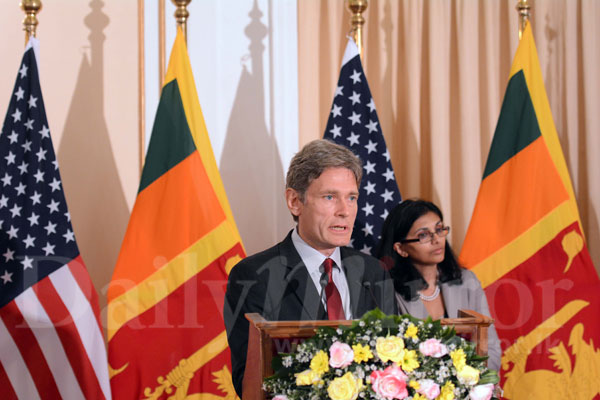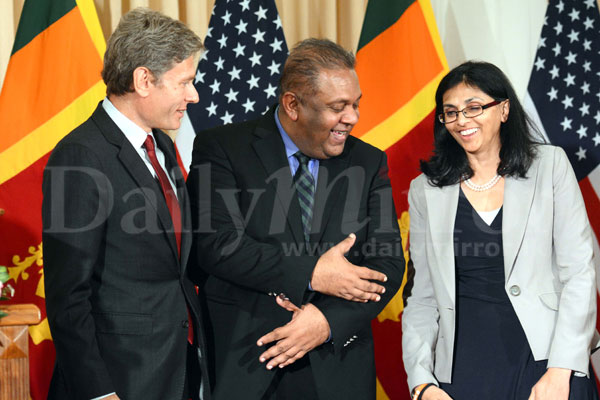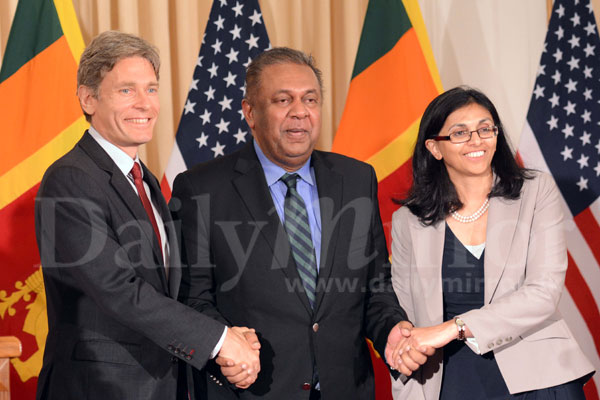 Pix by Pradeep Pathirana