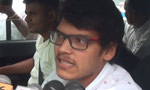 Former president Mahinda Rajapaksa's son Rohitha said the arrest of his brother Namal was a part of the government's witch-hunt of its opponents and that it was the ministers who decide when to arrest and when to release opposition politicians.

He said it had become a normal routine to visit his brothers in prison and that it had become his second home.

Mr. Rajapaksa said his brothers had done a great service for the development of Rugby and Rugby had gained international exposure as a result.

"Rugby will have no future because of arrests like this because sponsors will back away from supporting rugby," he said. (Ajith Siriwardena)