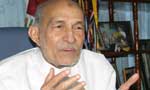 Former Western Province governor and veteran Sri Lanka Freedom Party (SLFP) politician, Alavi Moulana passed away this evening after a brief illness.
A family member confirmed that Mr. Moulana had died at a private hospital where he had been warded a few days ago.
Born in 1932, Mr. Moulana entered politics in 1948 as a trade unionist and joined the Trade Union Movement of the SLFP in 1960 when Prime Minister Sirimavo Bandaranaike was the leader of the Party. He was later appointed one of the vice-presidents of the party and the senior vice-president of the Sri Lanka Nidahas Sevaka Sangamaya.
He was a member the Colombo Municipal Council for 10 years. In 1994 he entered parliament and became the Deputy Minister of Media. He was later appointed as the Minister of Provincial Councils and Local Government. In 2001 he was appointed Minister of Labour. Mr. Moulana was also fully involved in Muslim affairs being, at one time, president of the Sri Lanka Muslim Federation; he was also an adviser on Muslim Affairs to former president Chandrika Kumaratunga.