---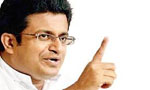 Pivithuru Hela Urumaya (PHU) General Secretary Udaya Gammanpila was summoned by the Police Special Investigation Unit (SIU) today to record a statement over a complaint that he had used an allegedly fraudulent Power of Attorney to sell shares of an Australian company.
Mr. Gammanpila, on his way to the SIU, refuted the charges as being politically motivated and said it was a surprise that the charge comes after 18 and a half years later of signing of the said Power of Attorney.
"The Power of Attorney had been signed by Brian Shaddick, the owner of the company and two other witnesses. Though I recognise Brian's signature, it is not possible for me to know the names, signatures, addresses and other details of the two witnesses," he told the media outside the SIU.
He said the complaint had been changed constantly raising doubts on the credibility of the compliant and charged action of the Police into the matter was partial.
"Ministers of the Government criticised the Bribery Commission officials for visiting former President Mahinda Rajapaksa at his residence to record a statement. But, the Police had travelled to Australia twice to record a statement from Brian Shaddick. Though, they had travelled there, not once tried to contact the two witnesses mentioned in the Power of Attorney," he charged.
Mr. Gammanpila also said the complaint, which was first lodged with the CID had been later handed over to the SIU on a request by the complainant.
"It seems a complainant could chose an entity of their choice," he said.
He charged a Minister was behind the complaint against him and said both the Police and the politicians were attempting to make him silent.
"They can't make us silent. They may put us in jail but they can't stop our struggle," he said. (Lahiru Pothmulla)