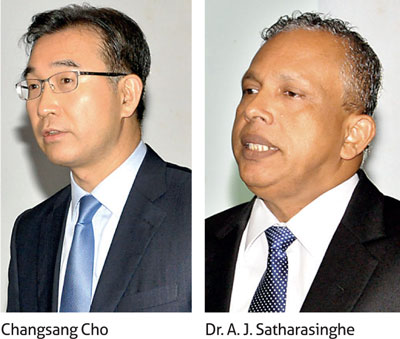 ""By Shabiya Ali Ahlam Sri Lanka yesterday benchmarked its regional peers in the area of data collection for analysis with the Department of Census and Statistics (DCS) opting for the Computer Assisted Personal Interviewing System (CAPI) to prepare official statistics.
Although a decade late to employ the technology that allows timely and accurate results, the DCS with technical and funding assistance from the National Statistical Office of the Republic of Korea (KOSTAT), kicked off the new system yesterday in Colombo. CAPI typically allows the in t e r v i ewer to customize the survey so that respondents answer questions only about subjects they are familiar with and receive questions in a random order to avoid favouritism.
The system also seeks to improve accessibility to data and to make the interviewing process more entertaining. With DCS planning to execute this system using tablets, the project will allow data entry of sample surveys during the interview stage itself. Although launched yesterday the project between the two nations was initiated in 2014 where the Lanka Statistics Information System (Lanka SIS) was developed to support the endeavour.
In 2015 intense training of DCS staff was conducted in collaboration with KOSTAT. It was shared that the CAPI system will be experimented this year and will be used as a pilot for the Sri Lanka Labour Force Survey 2017. Speaking at the launch event that also featured Planning and Coordination Statistics Korea Director General Changsang Cho, DCS Director General Dr. A. J. Satharasinghe said the implementation of the system would be challenged as it is the first time the department is exposed to such technology.
"The department has to be prepared to carry on this function smoothly. Be aware of the bottlenecks and rectify it so we can improve the timeliness of the statistics for the betterment of the county," said Dr. Satharasinghe to the DCS officials at the launch. The CAPI system would help minimize the paper questionnaires which would cut down printing, storing and shredding costs. It would reduce the amount of data entry from the office and would provide the ability for supervisors to review work right after the interview is conducted. Furthermore, it would assist to help improve the data quality by using real time edit checks, a feature that is not available in the current data collection method.