---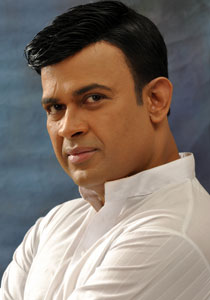 He would have injected himself the blood sample of the child, who had been rumoured to have congenital HIV/AIDS, Social Empowerment and Welfare Deputy Minister Ranjan Ramanayake said today.
"If it is necessary to prove that the child had not infected with HIV/AIDS, I have would have done so to demolish the rumours among the people of Kuliyapitiya," he said.
"If anyone challenges to prove that the child had been infected with HIV/AIDS, I will inject a blood sample of that child to open their eyes who claim that the child has AIDS," the Minister said.
The Minister visited the mother and son in Illukhena, their village, on Saturday.
The Minister shared a chocolate with the child to demonstrate to the people that HIV/AIDS cannot be contracted through even saliva.
Meanwhile, the President had issued a directive to the Ministry of Education that the child be admitted to any school in the country without any obstacles.
The Minister said according to the doctors' reports they confirmed the child had not been infected with HIV/AIDS.
"In fact we don't know how many Parliamentarians, Pradeshiya Sabha Members or Provincial Council Members were infected with HIV/AIDS. But if so we will never chase them away. We will look after them," the Minister said.
"I have conveyed the situation to President Maithripala Sirisena. Some schools in London have come forward to accommodate the child if schools in Sri Lanka refused admission on the basis that the child had AIDS," he said.
"By letting our country is sending out a message to the world that we are not caring about HIV/AIDS patients. It creates a bad image of the country. Then I thought on intervening," Minister Ramanayake said.
"This is not my electoral seat. I came to the site not for any election promotion, but to find justice to the innocent child," he said. (Chaturanga Pradeep)