---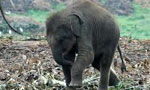 Environmentalists yesterday opposed the government's announcement to gift an elephant calf to New Zealand during recently concluded visit of New Zealand Prime Minister John Key.
They urged the government to follow India and stop the practice of gifting animals to foreign countries as it is cruel.
Environmental lawyer Jagath Gunawardana, speaking to the Daily Mirror said gifting living creatures like elephants on the whim of politicians should be stopped soon.
He said after the she-elephant, aged 5 is removed from its family at this age would result the animal to undergo a biologically dead position since it should be adapted in a familiar place where the animal is fed, watered and treated well.
Slamming the government's decision to deport the animal as a 'diplomatic gift' to the New Zealand, Mr. Gunawardana said this latest move was just one of incidents that took place for years amidst environmentalists' opposition.
President of the Species Conservation Centre, Pubudu Weeraratne said these kinds of acts will reduce Sri Lanka's elephant population that is now under threat.
"The youngster would be removed only when it could stand alone. According to sources, this animal is just five years of age. According to normal procedure, a she-elephant should adapt with the parents throughout its lifetime and a he-elephant normally live with parents until 10 years of age. Moreover, this animal will be adapted in a private zoo in New Zealand. This is not a good decision. If they want to give gifts to counterparts, they should have to choose something that is not a living creature. Gifting elephants could also impact on the tourism industry in the long term. Tourists come to Sri Lanka to watch elephants. After we send them to foreign countries, the number of tourists could fall," he said.
He said some environmentalists including himself expect to speak to President Maithripala Sirisena who is also the Minister of Mahaweli Development & Environment, in this regard.
Meanwhile, New Zealand Herald had opened a debate for Kiwis to comment on whether their country should accept the baby elephant gifted by Sri Lanka. An equal number of 'yes' and 'no' comments plus some undecided on accepting the gift appeared in the debate.
However, the Herald later reported that the Auckland Zoo had confirmed the baby elephant gifted to New Zealand in Sri Lanka. The Zoo has said it was delighted to welcome a second elephant from Pinnawala Elephant Orphanage.
"Five-year-old Nandi will be the final elephant to come from the orphanage and will increase Auckland Zoo's growing elephant family to three with its elephants Burma and Anjalee," it reported. (Piyumi Fonseka)