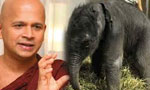 Ven. Uduwe Dhammaloka Thera had filed a fundamental rights petition seeking the Supreme Court to issue an Interim Order preventing the police from arresting him, allegedly for illegally keeping a baby elephant in his possession.
He was also seeking a declaration from the Court that the action of the Respondent Police officers in attempting to arrest him and singling out him, constitute an imminent violation of his fundamental rights to equality and equal protection of the law and freedom from arbitrary arrest and detention.
He cited CID Director B.R.S.R. Nagahamulla and the IGP as Respondents.
He had stated that in 2015, after the Presidential election, a team of officers from the Wild Life Department accompanied by several others from the Police Department had inquired about the alleged possession of baby elephant from him.
He states that in 2014, in keeping with Buddhist rituals, after the conclusion of a Perehera, a baby elephant had been abandoned at his temple. He stated that he continued to provide and for the pachyderm and also instructed the volunteers to take care of the baby elephant until the authorities took it into their custody.
He laments that as the unregistered elephants were considered public property, the respondents were investigating the inquiries regarding the matter of the unregistered elephant being kept in his charge as if they were clearly expecting him to be produced in Court. He bemoans that there was an imminent threat of him being arrested.
He was also seeking compensation in the amount of Rs. 25 million. (S.S.Selvanayagam)