---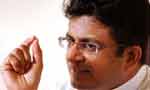 No Prime Minister in the history of Sri Lanka has suppressed the media like current Prime Minister Ranil Wickremesinghe, Pivithuru Hela Urumaya (PHU) General Secretary and MP Udaya Gammanpila said today.
He told a media briefing held in Colombo, that there was no one strong enough to object to Mr. Wickremesinghe's statement asking the media to toe the line.
He said in 1982, when former president Ranasinghe Premadasa criticized a certain print media institution, all the media institutions stood against it.
"Unfortunately at present the situation is different. When one media institution gets criticized, others keep quiet because they do not want to get involved in it," Mr. Gammanpila said.(Darshana Sanjeewa and Kalathma Jayawardhane)