---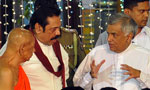 Hunupitiya Gangaramaya Temple's Chief incumbent Ven. Galaboda Gnanissara Thera yesterday called for the end of confrontational politics in Sri Lanka and gave a piece of advice to both Prime Minister Ranil Wickremesinghe and former President Mahinda Rajapaksa to work towards the betterment of the country.
"This government has brought the country close to embarking on a fruitful journey towards development and I like to tell Mr. Rajapaksa not to sabotage the government's activities ( Me Rajaya Rata Honda Gamanak yana thenakata genath thiyanawa. Mahinda Rajapaksa manthrithumani Kakulen Adinna Epa)," the Thera told the former President and Kurunegala District MP who was present at the opening ceremony of the Navam Perahera of the Gangarama Temple last evening.
The prelate also told Prime Minister Wickremesinghe that one should not lose his temper. "Don't lose your cool as you can be aggressive. DO so only when the need arises ( Kenthi ganna epa, awashya welawata pamanak kenthi ganna)" he told the Prime Minister.
"Prime Minister is accused of being aggressive towards mass media these days and one has to be aggressive towards the media. The rulers of the country have the right to be aggressive towards media," he added.
Going back down memory lane, the prelate recalled how he hoisted black flags when the Indian Peace Keeping Force ( IPKF) was brought to Sri Lanka and how Prime Minister Wickremesinghe cautioned him not to say anything which upset the then President J R Jayewardene.
He also said a former SLFP government took over the Lake House of the Wijewardene family and requested the Prime Minister to make Lake House an independent venture and hand it over to the Wijewardene family as it was their heritage. Incidentally this appeal came on the eve of the 130th birth anniversary of the late press baron D. R. Wijewardene who founded Lake House.
The Thera thanked the Wijewardene and Wickremesinghe families and the governments of the past and present for their roles in developing the Gangarama Temple and the Jinaratana vocational training center.
The prelate also said the disunity among the Sinhalese made them lose their right to rule this country and this helped the British to take over this country. He therefore recalled that Kandasamy was crowned as a result of disunity among the Sinhala rulers. (Yohan Perera)