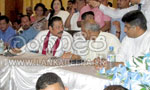 A bulk of former United People's Freedom Alliance (UPFA) local government members, at a special summit, called for the formation of a new political party as an alternative to the Sri Lanka Freedom Party (SLFP), informed sources said today.
The SLFP is the largest and key ally of the UPFA. The UPFA is virtually divided at the moment with one faction switching its allegiance to former President Mahinda Rajapaksa and the other to President Maitripala Sirisena. According to sources, nearly 2500 members who served in the dissolved local authorities or are serving in the functioning ones, attended the summit.
The members representing each district including Jaffna, Vavuniya and Mullaitivu spoke at the event, and asked for a new political party under the leadership of Mr. Rajapaksa. They reportedly said Mr. Rajapaksa was deceived twice by the present SLFP hierarchy and therefore he should not fall into any political trap in the future.
Mr. Rajapaksa said in response, "Now, the SLFP authorities have initiated disciplinary action against you. Whenever you are expelled from the party, there should be a place for you to turn to. Wherever you stand, I will be with you."
Former Chief Justice Sarath N.Silva was also present at the occasion.
Former Minister Basil Rajapaksa, Mahajana Eksath Peramuna Leader Dinesh Gunawardane, MPs Pavitra Wanniarachchi, Geetha Kumarasinghe and others attended the event.
The event is seen as yet another step forward in the direction of forming a new political party. Mr. Rajapaksa opened a political coordinating office in Colombo last Friday in this respect.
Quote: Now, the SLFP authorities have initiated disciplinary action against you. Whenever you are expelled from the party, there should be a place for you to turn to. Wherever you stand, I will be with you (Kelum Bandara)