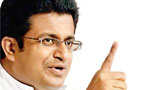 The government is planning to appoint an incompetent official to the post of Attorney General in the wake of the retirement of former AG Yuwanjan Wijeyatilake, Pivithuru Hela Urumaya (PHU) General Secretary and MP Udaya Gammanpila claimed today.
He said the new AG should be appointed as soon as possible because otherwise the lawsuits filed under the purview of the AG can no longer be proceeded with.
Mr. Gammanpila said Solicitor General Suhada Gamlath who earlier functioned as the acting AG should be appointed to the post according to the approved selection procedure.
"Solicitor General Gamlath who is next in line should be appointed soon. He is a reputed and competent state official who works independently on behalf of justice. He is not relying on money or any other benefits. But, according to reports, an officer who is incapable of serving as the AG is to be appointed," he said.
He said the joint opposition would oppose the appointment of an outsider to the post of AG. (Piyumi Fonseka)
Video by Buddhi