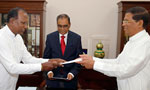 SLFP Western Provincial Councillor Sumith Lal Mendis was sworn in as Minister of Health, Child Probation and Women's Affairs.

Mr. Mendis was elected to the Council from the Kalutara District. Speaking to the Daily Mirror, he said Chief Minister Isura Devapriya only informed him about the appointment today.

He said he was ready to work with Health Minister Rajitha Senaratne in improving the health of the people.

The Provincial Health Ministry was earlier taken over by the Chief Minister from Councillor Nishantha Sri Warnatunga after the Ministry's Budget debate was defeated. (DS)