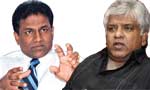 The newly elected Sri Lanka Cricket President Thilanga Sumathipala said today he would take legal action against former SLC President Arjuna Ranatunga over certain statements Ranatunga had allegedly made.
Sumathipala was elected as SLC President with 88 votes defeating SLC Secretary Nishantha Ranatunga by 56 votes on Sunday.
Jayantha Dharmadasa and K. Mathivanan were elected Vice-Presidents of SLC with 102 votes and 90 votes respectively, while Mohan de Silva was elected as the SLC Secretary.
Arjuna Ranatunga received 80 votes.
"Arjuna Ranatunga should stay away now. He was defeated. He has garnered fewer votes than K. Mathivanan. He had his chances because of his talents of winning several cricket matches, that's all," MP Sumathipala said.
"I am going to deal with Arjuna Ranatunga from now onwards. I will take the responsibility of all things he did as the President of SLC."
"He should accept his defeat, and confine himself to raising faults on umpiring," Sumathipala said.
"I know everything about his past. Whom does he think he is to insult others? Hence, I will take legal action against him," he said.
(Chaturanga Pradeep)