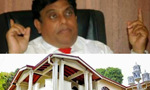 My wife threatened to divorce me if I gave my Peacock Mansion to former president Mahinda Rajapaksa, Sri Lanka Labour Party Leader and Entrepreneur A.S.P. Liyanage said today.
A.S.P. Liyanage arrived at the Bribery Commission today to make a statement in connection with his offer to hand over the Rs.830 million worth Peacock Mansion at Rajagiriya to former president Mahinda Rajapaksa.
While addressing the media, he said, the main reason for not giving his mansion to Mahinda Rajapaksa was his wife's insistence. She said she would divorce him if he did. This was the only force that was used on him.
No other people influenced me. She did this for my own safety, not to harm me," he said.
"I was hoping to hand over my Peacock Mansion to the former president Mahinda Rajapakasa for two years, until he got his official house.
Holding this kind of investigation is good because everyone will come to know the reason behind my offering Peacock Mansion to the former president," he said.
While recording my statement, the Bribery Commission wanted to know whether I had any agreement to sell or hand over my mansion to the former president.
"One should have the freedom to hand over anything anyone free of charge. That is the fair method in the world. But, unfortunately, we now have no independence. I also escaped by a hairsbreadth," he said.
My statement was recorded due to many complaints made by several organizations, but this investigation ended today. The Bribery Commission said they would inform me if they needed any more information.
The complaints made against me were fair. Everyone has the right to make complaints. Mahinda Rajapaksa is very fond of to my house. He visited my place several times and he will come to my house even today if I ask him. President Maithripala Sirirsena has given him an official residence but he hasn't gone there yet.
(Chaturanga Pradeep)