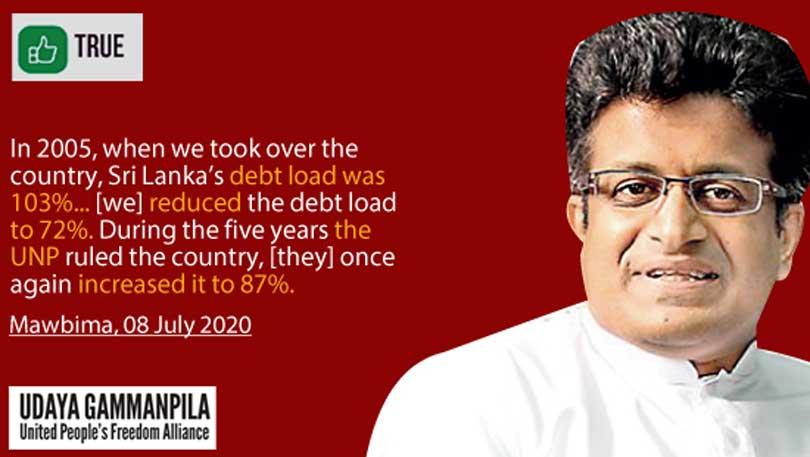 In the above statement, former MP Udaya Gammanpila claimed the UPFA government, which came in to power in 2005, reduced the debt burden of the country from 103% of GDP to 72% at the end of their term. He further claimed the UNP government increased the debt burden to 87% of GDP at the end of the five years.

To evaluate these claims FactCheck referred to the special statistical appendix of the 2019 Central Bank of Sri Lanka Annual Report.

The statistic on debt as a share of GDP that comes closest to the numbers used by former MP Gammanpila is that of the central government debt, not counting the debt that is in the books of state-owned enterprises.
In LKR terms, at the end of 2004—prior to the UPFA forming a government—central government debt as a share of GDP was 102.5%. This figure decreased to 72.3% at the end of 2014, when the UPFA government's tenure ended. The UNP-led Yahapalana government was formed in 2015. By the end of 2019, soon after its tenure ended, the debt to GDP ratio had increased to 86.8%. These statistics match the figures quoted by the former MP. Previous fact checks have pointed out that converting the debt from one currency to another (and the date selected for the conversion rate) can change the inference – e.g. a fixed USD debt gets counted as increasing as an LKR debt due to annual currency depreciations.
Whereas, consistently counting foreign debt in USD and domestic debt in LKR prevents this confusion. When considering the growth of domestic debt in LKR terms and foreign debt in USD terms, there was a higher annualised growth of debt during the UPFA period (9.6% and 14.1% in USD and LKR) than the Yahapalana period (8.2% and 9.2% in USD and LKR). Despite the misleading inference that could arise from his claim, former MP Gammanpila correctly cites the past debt to GDP ratios of the central government debt, as it is reported in the latest Central Bank Annual Report. Therefore, we classify the former MP's statement as TRUE. *FactCheck's verdict is based on the most recent information that is publicly accessible.
As with every fact check, if new information becomes available, FactCheck will revisit the assessment.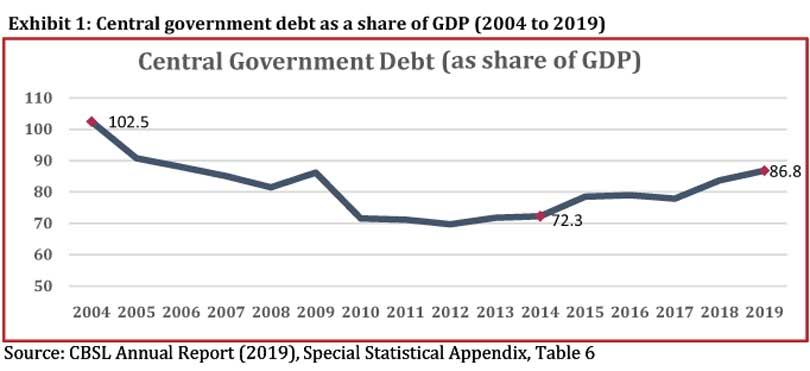 FactCheck is a platform run by Verité Research.
For comments, suggestions and feedback, please visit www.factcheck.lk.