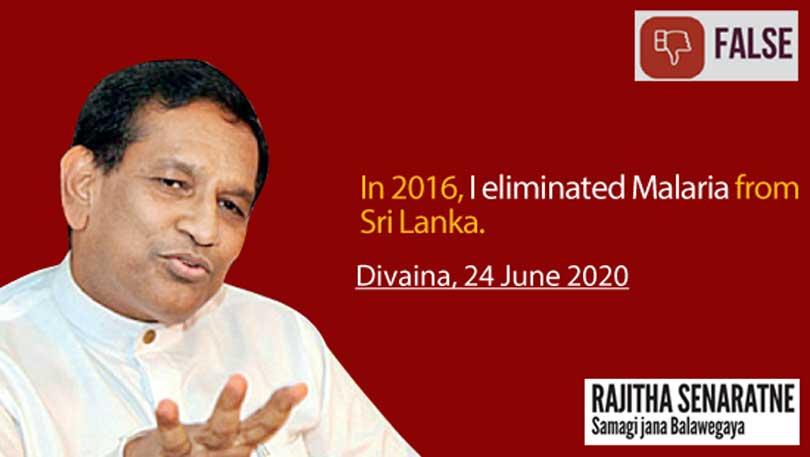 Former Minister of Health Rajitha Senaratne transmits incorrect information on malaria incidence.

To evaluate former Minister of Health Rajitha Senaratne's claim, FactCheck consulted WHO Malaria Terminology and Annual Reports and the National Malaria Strategic Plan from the Ministry of Health.

The WHO states that certification of malaria-free status is granted "after it has been proved beyond reasonable doubt that local human malaria transmission by Anopheles mosquitoes has been interrupted in an entire country for at least 3 consecutive years".

Rajitha Senaratne was appointed Minister of Health only on January 12, 2015. While Sri Lanka was granted malaria-free status in 2016—which was during Senaratne's tenure—the National Malaria Strategic Plan indicates that Sri Lanka had not recorded an indigenous case of Malaria after 2012. Since the year 1999, the number of indigenous cases of malaria decreased dramatically. Between 1999 and 2016, Sri Lanka had six different ministers of health.

Therefore, former Minister Senaratne's claim is wrong on two counts: (1) the elimination of malaria cannot be credited to one individual as it was the result of collaborative initiatives over a period of over 15 years and (2) Sri Lanka saw its last case of malaria three years prior to Rajitha Senaratne's tenure as minister of health.

Therefore, we classify this statement as FALSE.

*FactCheck's verdict is based on the most recent information that is publicly accessible. As with every fact check, if new information becomes available, FactCheck will revisit the assessment.
FactCheck is a platform run by Verité Research.
For comments, suggestions and feedback, please visit www.factcheck.lk