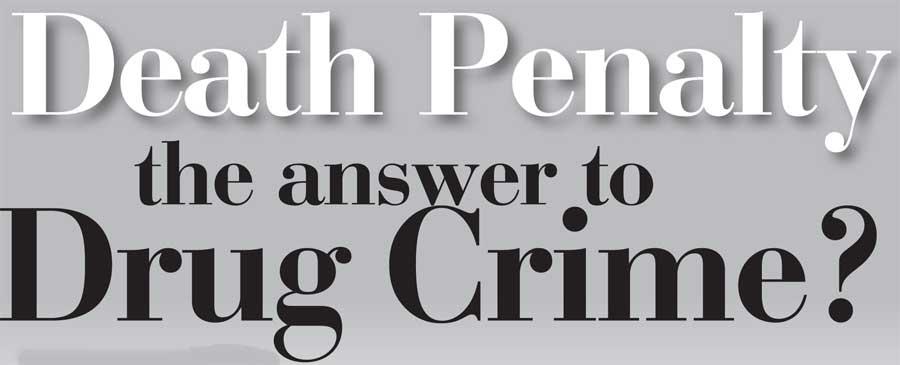 Four drug offenders have been selected to be hanged first

President is adamant in ending moratorium on death penalty

Drug traffickers kill thousands of our citizens every year
The Trump administration's initiative to combat the drug epidemic aims to reduce drug demand, curtail illicit drug supply and expand addiction treatment. But the aspect that caught headlines was President Trump's repeated emphasis on seeking the death penalty for drug traffickers.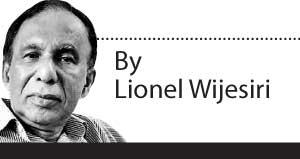 Sri Lankan President, Maithripala Sirisena seems to have taken a cue from President Trump. He has publicly expressed his resolve to resume executions in Sri Lanka with immediate effect. On his instructions, two hangmen have already been recruited and he himself has selected four prisoners convicted of drug offences to be hanged first.
Sri Lanka has not executed anyone since 1976 and, in practical terms, has been an abolitionist state. In fact, Sri Lanka has been following world trend of moving away from capital punishment. According to Amnesty International (AI), by the end of 2018, 106 countries had fully abolished the death penalty in their legislation. Presently, 142 countries are now abolitionists in practice.
"Capital punishment does not deter people from using or trafficking drugs. We have found out enormous amount of evidence in support of this. In countries that have aggressively pursued the death penalty in recent decades, the drug market continues to flourish"

In spite of all these positive developments in the world, President Sirisena is becoming adamant in ending the moratorium on the death penalty. He stated recently that if a Bill to abolish the death penalty was brought before Parliament, he would declare a National Day of Mourning. It is difficult to understand the reasons or motives behind his decision. His announcement has been succeeded by a number of alarming actions both locally and internationally. Human Rights Commission of Sri Lanka, Office of the High Commissioner for Human Rights and the UN Special Rapporteur on the Independence of Judges and Lawyers, have highlighted that studies from different countries show people from less advantaged economic backgrounds, and those belonging to racial, ethnic or religious minorities disproportionately carry the weight of the death penalty.

Supreme Court
In the meantime, Sri Lanka's Supreme Court has issued a temporary injunction against the execution of four people, suspending President's move to end the moratorium on capital punishment. The court banned any executions until October 30, by when it is expected to have ruled on a petition seeking a declaration that hanging breaches the country's constitution.
M.A. Sumanthiran, a Sri Lankan legislator, parliamentarian and a lawyer representing a condemned prisoner, said death by hanging was a "cruel and degrading punishment." He added, "It is the fundamental right of any individual not to be subjected to cruel and degrading treatment. It is on that basis we want courts to hold that execution of capital punishment is a violation of the Constitution."
Answer
Along with Mr. Sumanthiran, more than half the world's countries condemn this punishment for what it is – a brutal sanction that violates the right to life. But a minority of countries do not, going to great lengths to justify their continued use of it. Among the many justifications they use is that the death penalty deters drug trafficking.
But is the death penalty really the answer to drug crime – or any crime, in fact? Before answering this question, we have to go back to Trump. In a speech on combating the drug crisis, Trump said, "Drug traffickers kill so many thousands of our citizens every year. And that's why my Department of Justice will be seeking so many much tougher penalties than we've ever had, and we will be focusing on a penalty for the big pushers, and that penalty is going to be the death penalty.
The Department of Justice commented later, "We will seek the death penalty against drug traffickers, where appropriate under current law."
In 1994, President Bill Clinton signed a special crime Bill known as "the Violent Crime Control and Law Enforcement Act." This Act greatly expanded the federal death penalty, including for those who traffic in a large quantity of narcotics. The Drug Enforcement Administration clarifies what this "large quantity" is. It says, "2mg of fentanyl (equivalent to a few grains of table salt) is considered to be a deadly dose for more than 95% of the American public."
So, statutorily, the Trump administration has the authority to pursue the death penalty in drug trafficking. However, no administration, whether Republican or Democrat, has acted on that statutory authority. And that's because of questions about whether such a case would withstand a constitutional challenge before the Supreme Court.
Now we have to wait and see how our Supreme Court might rule in President Sirisena's pet project – Resumption of death penalty on drug traffickers.
Research
What does scientific research say about whether the death penalty deters drug trafficking?
Daniel Nagin, a Professor of public policy at Carnegie University said recently that he doesn't know of any research on whether the death penalty deters drug trafficking. There's really only research on whether the death penalty deters homicide because that's the crime for which most people are executed.
Is there any scientific research on the role prison sentences might play in deterring drug trafficking? Prof. Nagin says, "In a nutshell, imprisoning those who sell or make drugs may affect drug availability, but it's not the most effective way to stifle drug trafficking and drug use by proxy.
He added, "Law enforcement has a role to play, but there's universal acceptance [among experts] that you can't be satisfied by just imprisoning the culprits because someone will replace them and the cycle keeps on moving."
Richard Berk, a Professor of criminology and statistics at the University of Pennsylvania, agreed. "If the supplier is taken off the streets, sooner or later someone else will become the supplier."
Mark A. R. Kleiman, Professor of Public Policy at New York University also says, "By deterring one drug dealer - like imprisoning him or executing him - just leaves a niche for another dealer, without substantially changing drug availability. And that's just as true for 'kingpins' as for street dealers."
No deterrence
Writing a foreword to the annual presentation "The Death Penalty for Drug Offences: Global Overview 2018," by Prof. Adeeba Kamarulzaman, Dean of the Faculty of Medicine, University of Malaya, Malaysia, says: We have reached a tipping point in the history of the death penalty for drug offences. This abhorrent practice is now being implemented with less frequency, thanks to the realisation among countries that were once prolific executioners that the death penalty is a futile practice."
"Capital punishment does not deter people from using or trafficking drugs. We have found out enormous amount of evidence in support of this. In countries that have aggressively pursued the death penalty in recent decades, the drug market continues to flourish. While failing in its primary goal of impacting the drug trade, the death penalty has enacted misery on the lives of some of society's poorest and most vulnerable."
"Those sentenced to face execution for drug offences are often people at the lowest level of the trade, a number of whom may have entered it out of coercion or simply having no economic choice. In these scenarios, the legal system will only exploit their indigence, as stories of no access to legal aid and sham trials are all too common."
Re-emergence
Worryingly, we are seeing the re-emergence of pro-death penalty rhetoric from country leaders playing to populist anti-drug sentiment. Bangladesh expanded use of the death penalty for drug offences in 2018, citing the scourge of drugs on the country's youth and families. And now, Sri Lanka's president is threatening to end a 43-year moratorium on executions and begin signing death warrants for convicted drug traffickers.
With regard to drug offences more broadly, the right approach needs to go further than the death penalty. Punitive drug policies are ineffective and causing myriad harm to society. If leaders truly want to protect their citizens and mitigate harm, they must ground drug laws in dignity, human rights and evidence. More and more countries are beginning to understand this. Now is the time for all of us in Sri Lanka to accelerate change and ensure past failures are not repeated in the future.
---
---