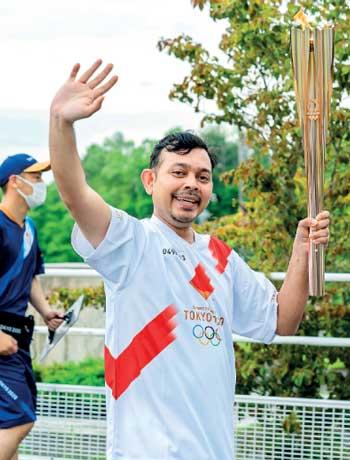 Sri Lankan born Nuwan Sameera Gunawardena, who is living in Japan as a budding entrepreneur in tourism, had a rare opportunity to bear the Olympic torch in the torch relay in Shimane, Japan recently.

Nuwan Sameera, who came to Japan 19 years ago and after graduating from Ritsumeikan Asia Pacific University, had lived in Tokyo for a year, before shifting to Ama-cho in the Oki Islands for 10 years. He had then lived in Okuizumo-cho for five years, where he has been involved in tourism.

According to Nuwan Sameera, who was a past pupil of Ananda College Colombo, both Okuizumo and Ama are depopulated areas, suffering from a low birthrate, an aging population, a lack of successors, and an outflow of young people.

Speaking to Daily Mirror about his background in Japan Nuwan Sameera said, "I believe that my mission is to use tourism as a means to revitalize the region. In Ama Town, I launched a project called 'Shimayado' in cooperation with hotel and inn owners. As a result, we have been able to send 2,000 tourists a year to the island inns".
"In Okuizumo Town, I was a founder member in setting up a tourism association. Together with tourism-related people and the government, we created an organization that can respond to the diversifying needs of tourists. Nowadays, Okuizumo is a popular destination for foreign tourists on cruise ships.

From now on, in cooperation with the neighboring towns, I would like to start a destination management and marketing company to attract more tourists from all over the world. Our company is Tavikala which means the 'art of travel', said Sameera.