The SLPP has to play a historical, futuristic role to win over such youth
SLPP won power after a careful struggle against all odds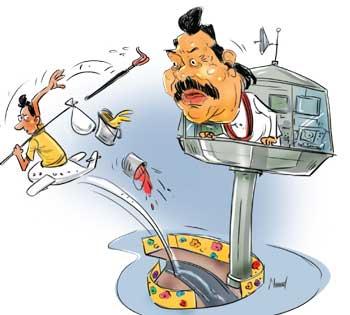 By Kelum Bandara
Prime Minister Mahinda Rajapaksa yesterday said that youth who were so hopeful after the present government was formed and who drew wall paintings at public places to express themselves had now queued up to obtain passports to go abroad.
"The SLPP has to play a historical, futuristic role to win over such youth," The Prime Minister said in his address at the function to mark the fifth anniversary of Sri Lanka Podujana Peramuna (SLPP).

He said the SLPP won power after a careful struggle against all odds. The Prime Minister said the party should also do politics with people in addition to running the government.

He also said the party could not afford to alienate its minor allies, which stood by it and worked for a common objective during trying times.

Asserting that those parties were not aides or sidekicks of the SLPP, the Prime Minister being the party leader said it was important to stand together with all. He made these remarks in the context of ten allies of the government acting as a separate group and having an open confrontation with Finance Minister Basil Rajapaksa, who founded the SLPP.

"There are many matters that cannot be achieved only through the power of the government, the ministries or the state institutions. The trade union action initiated by the teachers snowballed into such a crisis because we remained aloof from politics. Farmers' agitation has become a serious issue because we did not reach out to them. When we alienate ourselves from politics, the forces that we defeated fill the vacuum by reaching out to the people. Never expect government officials to do the job for us. We should revive our political bases both among the farmers and the workers," he said.
There are many matters that cannot be achieved only through the power of the government, the ministries or the state institutions
---
---