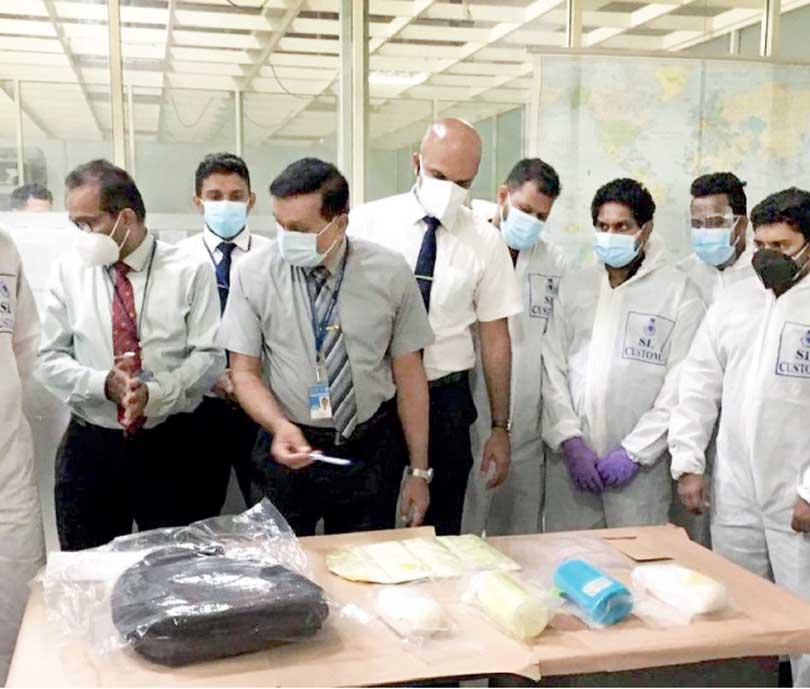 Suspect had received the stock of cocaine from a person in Addis Ababa, the Ethiopian capital
By Kurulu Koojana Kariyakarawana
A South African national who attempted to smuggle in a stock of cocaine worth over Rs.64 million concealed in bottles of shampoo amongst his personal toiletries was nabbed by the Customs at the Bandaranaike International Airport yesterday.
Customs Narcotic Control Unit officials stationed at the BIA Arrival Terminal on suspicion searched the foreign male, who had arrived in the country around 9.00 am yesterday on Qatar Airways Flight QR664 from Doha, Qatar to find the drugs.

According to Customs Spokesman Deputy Director Sudaththa Silva the sleuths found two kilos and 29 grams of cocaine concealed in polythene sachets that were dipped in two large shampoo bottles. Preliminary investigations have revealed the 62-year-old suspect had been used as a drug carrier by an international narcotics syndicate. Customs Narcotics Control Unit sources said the South African had been handed over the stock of cocaine from a person in Addis Ababa, the capital of Ethiopia a couple of days ago.