Five Kfir jets, 2 C-130 aircraft, 2 AN-32, MI-17 and MI-35 combat helicopters to be overhauled
SLAF to purchase two Y-12 planes and four small helicopters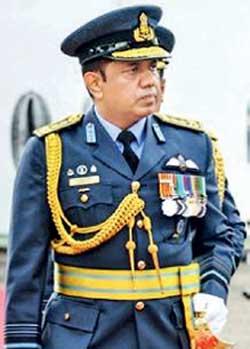 By Sunil Jayasiri
The Sri Lanka Air Force is to increase its air capability including combat aircraft within the year and it has already sent a number of aircraft including fighter jets Kfir and MI-17 for overhaul purposes overseas, Air Force Commander Air Marshal Sudarshana Pathirana said yesterday.
"We have already initiated discussions with an Israeli Aircraft manufacturer to overhaul five Kfir fighter jets of the Sri Lanka Air Force and within this month all will be finalised on this," the Commander told the Daily Mirror.

He also said that the Cabinet of Ministers had already approved a proposal costing $49 million to overhaul and upgrade five Kfir fighter jets, which were in active service in the SL Air Force.

Air Marshal Pathirana also said that two C-130 aircraft (medium lift transport aircraft) of the SLAF will also be sent for overhaul purposes soon.

"Discussions are underway with Pakistan and most probably one C-130 will be sent there for overhauling while bids have already been called for Capital Overhauls and Service Life Extension for the second C-130 aircraft."
He also revealed that three Ukraine built Antonov-32 transport aircraft of the SLAF have already been sent to Ukraine for overhaul purposes while another AN-32 will also be sent there soon for the same purpose.
Three more MI-17 combat helicopters, that were too on active duty during last two decades had already been sent to Lithuania for overhaul purposes. "There were several MI-35 combat helicopters, which are currently grounded and they will also be sent for overhaul and service life extension," the Commander revealed.

Meanwhile, the Air Force Chief said that the SLAF is going to soon purchase two Chinese Y-12 aircraft, which are to be used for several purposes including transport, training, search and rescue missions.

He also said that four more small helicopters that are to be used for training purposes would be purchased and already bids are called for it. "For that purpose, we have received the Cabinet approval already," he said.
Already initiated discussions with an Israeli Aircraft manufacturer to overhaul five Kfir fighter jets
Three Ukraine built Antonov-32 transport aircraft have already been sent to Ukraine for overhaul purposes
Cabinet of Ministers had already approved a proposal costing $49 million to overhaul and upgrade five Kfir fighter jets