The Mahanayakes said, the President's recent statement that he had decided to implement the 13th amendment was gathering momentum in the country and the people were perturbed by it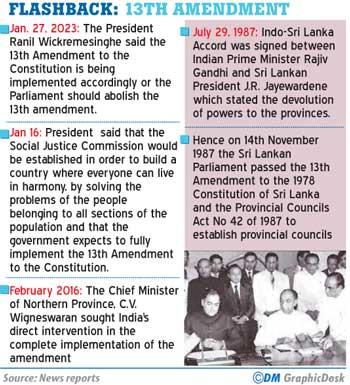 By Shane Senevirathne
The Mahanayake Theras of the three chapters yesterday forwarded a memorandum to President Ranil Wickremesinghe not to implement the 13th amendment that would result in serious consequences affecting sovereignty, territorial integrity and national security.
They had handed over the memorandum during a meeting with the President who visited Malwatta and Asgiriya temples to receive the blessings of the Mahanayake Theras.
Mahanayake of the Malwatta Chapter Ven. Thibbotuwawe Sri Siddhartha Sumangala, Mahanayake of the Asgiriya Chapter Ven. Warakagoda Sri Gnanarathana, Mahanayake of the Sri Lanka Ramanniya Nikaya Ven. Makulewa Wimala and Mahanayake of the Amarapura Nikaya Dodampahala Sri Chandrasiri Theras had signed the memorandum.
They pointed out that the President's recent statement that he had decided to implement the 13th amendment was gathering momentum in the country and that the people were perturbed by it.

"Vesting police and land powers with the Provincial Councils would give a new impetus to separatism. The predecessor Presidents refrained from implementing the relevant clauses in 13A to prevent the collapse of the rule of the Central Government. Any step taken to implement the relevant clauses in the amendment would bring disrepute to the government. As Mahasangha of the country we are of the opinion that implementing the 13th amendment should be refused despite interference of the super powers to accept their conditions to provide aid to overcome the prevailing economic crisis in the country."

"Sri Lanka had the harrowing experience of three decades of military conflicts. The responsibility of the government is to uplift the North and East that were the worst affected. Vesting of police and land powers with the provincial councils would only create a crisis instead."

"As the Mahasangha in the country we stress that the 13th amendment, that would result in serious consequences, should not be implemented," the Mahanayake Theras further stated.
Vesting police and land powers with the Provincial Councils would give a new impetus to separatism. The predecessor Presidents refrained from implementing the relevant clauses in 13A to prevent the collapse of the rule of the Central Government
---
---