People's Tribunal finds Govt. guilty
Lawyers to use findings in push for justice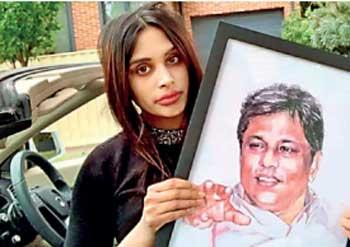 By Easwaran Rutnam
Ahimsa Wickrematunge, daughter of slain journalist Lasantha Wickrematunge, says she will continue to fight for her father.
She said that a ruling by a People's Tribunal has strengthened her perseverance and advocacy. A series of civil society-led hearings culminated in The Hague this week, with justice being sought over the murder of journalist Lasantha Wickrematunge as well as journalists in Mexico and Syria.

"Hearing the judges at the People's Tribunal deliver a guilty verdict on the assassination of my father was something my family and I have, for 13 years, waited on the Sri Lankan government to deliver. For years the Sri Lankan government shut their doors on families like mine seeking justice for their loved ones," Ahimsa Wickrematunge told Daily Mirror.

She said that globally, impunity for crimes against journalists is getting worse and thanks to the People's Tribunal, slain journalists like her father finally have an opportunity resembling a day in court.
"The People's Tribunal found the evidence in my father's assassination laid before them strong and compelling and have found the government of Sri Lanka, including the then Defence Secretary Gotabaya Rajapaksa, guilty of directing and ordering the attacks against my father," she said.

Wickrematunge said that the ruling is only the beginning and has strengthened her perseverance and her advocacy and her attorneys and she will highlight these findings in pushing governments to act. "I will continue to fight for my father till the day he see's justice," she said.

Launched by a coalition of press freedom organizations in November last year, the People's Tribunal heard evidence and analysis about the killing of journalists in Mexico, Sri Lanka and Syria.
While it has no legal powers to convict anyone, the tribunal aims to raise awareness, pressure governments, and gather evidence.
---
---