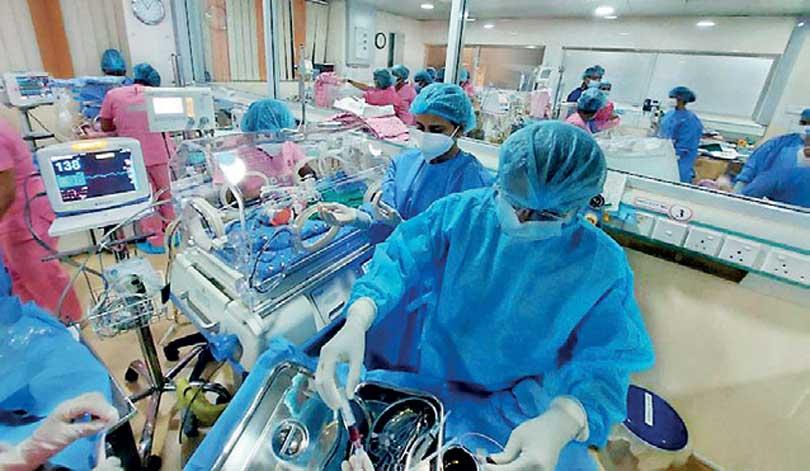 All the six infants were born between 12.16 a.m. and 12.18 a.m. last morning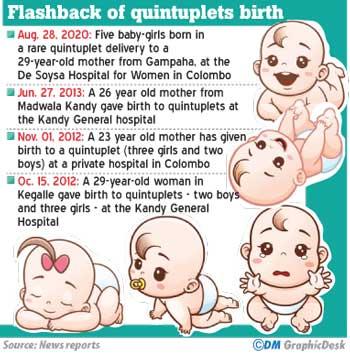 By Chaturanga Samarawickrama
The first ever sextuplet birth was reported last morning from the Ninewells Hospitals in Colombo, Senior Operation Manager- Susantha Pieris said. All the six infants were born between 12.16 a.m. and 12.18 a.m. last morning.
"The mother is 31-year-old resident of Angoda. The 35-year-old father of the sextuplets is a technical officer," Mr. Pieris said.

He said the mother had given birth to three boys and three girls.

"The mother and children are healthy, but the second baby girl is being kept in ventilator and is said to be in a stable condition," he said.

The caesarean surgery was performed by Obstetrician and Gynecologist Prof. Tiran Dias.

The 30-week-old babies are currently being cared for in the neonatal unit under the care of specialist Dr.Nalin Gamaethige and specialist Dr. Buddhima Jayasinghe. Dr. Sankalpa Marasinghe had led the group of specialists.
The babies are currently being cared for in the neonatal unit under the care of specialist Dr.Nalin Gamaethige and specialist Dr. Buddhima Jayasinghe. Dr. Sankalpa Marasinghe had led the group of specialists
The 30-week-old babies are currently being cared for in the neonatal unit under the care of specialist Dr.Nalin Gamaethige and specialist Dr. Buddhima Jayasinghe. Dr. Sankalpa Marasinghe had led the group of specialists