President lashes out at the interviewer saying
You think we are second class?
You came here to corner me
You take a piece of paper by the Cardinal and you are reading it out here
Says No need for international probe into Easter Sunday's attacks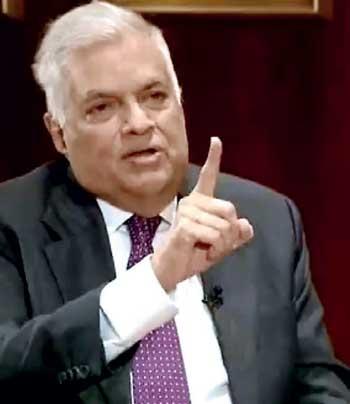 President, Ranil Wickremesinghe lashed out during an interview with Germany's Deutsche Welle (DW) news agency saying there is no necessity to have an international probe into the Easter Sunday's attacks.

"You are talking nonsense,.. You have no right to ask me this question, You think we are second class…. You need to take this western attitude out….You stop it, I stop it, We go off ," President Wickremesinghe told the interviewer , when asked for a response into the recent Channel 4 documentary on the Easter Sunday bombings and the need for an international investigation.
The western media thinks we are bad. The way we have an inquiry is by using Sri Lankan personnel. You take a piece of paper written by the Cardinal and you are reading it out here. Have you spoken to the bishop's conference? If not then you have no right to ask me this question. You did not come here to ask me these questions. You came here to corner me," Wickremesinghe lashed out at the journalist.

"Germany does not have such inquiries, UK does not have such inquiries, what international inquiries have they gone into? Why is it for Sri Lankans and Asians? You think we are second class?" Wickremesinghe said.

"Take this Western attitude out. Sri Lanka government does not have international inquiries," the President further said. You stop it. I stop it. You have not done your homework properly. But instead you come here and tell me we are violating human rights. I disagree."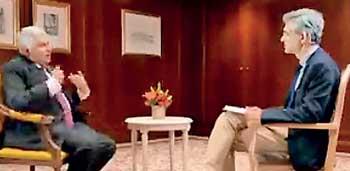 The President also said that numerous intelligence agencies, including the US, Indian, and Pakistani, have reported that there was no outside involvement in the attacks.

"We had the FBI, we had the British Police, the Australians, Indians, Chinese and the Pakistanis. If those secret services have given reports, what are these allegations," he questioned.

"A few people may have called for an international inquiry, but the Parliament has not requested for such an inquiry. Sri Lanka conducts its own inquiries using its own personnel," he said.

Commenting on the recent UN Human Rights Council report, which noted the lack of progress on accountability, the President rejected its findings. "The Government of Sri Lanka has rejected the report and I am not accepting that report. The UNHRC report is wrong," the President said.
---
---