---
By Shehan Daniel
A draft legislation aimed at preventing match-fixing in sports, which would hand out heavy punishments to offenders, has yet to be tabled in parliament despite it being formulated more than three years ago.
The legislation titled the 'Prevention of Match-Fixing' bill will effectively make 'match-fixing betting' – betting that influences the events or results of matches – illegal at all levels and also punish athletes and officials who engage in match-fixing and was temporarily approved by the Legal Draftsmen's Department, after being drafted at the behest of then Sports Minister Mahindananda Aluthgamage in 2013.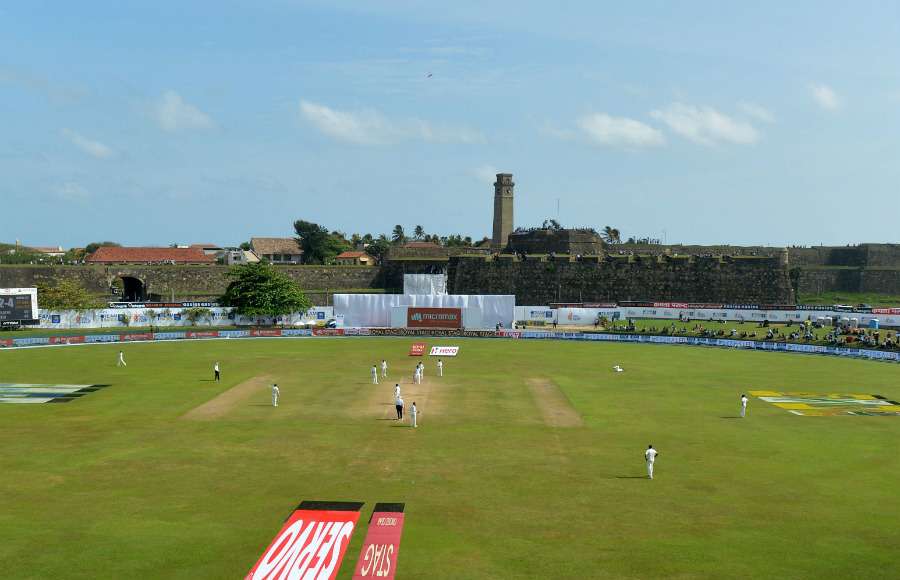 An Al Jazeera documentary alleged that pitches used for two recent Tests played at the Galle Stadium had been doctored with by a Galle Stadium official and another local
The draft bill was drawn up by an eight-member committee Chaired by the former Secretary of the Ministry of Sports Anura Jayawickrama and included lawyers and heads of sports associations.
The committee studied the regulations of various international sporting bodies – the International Cricket Council, FIFA, World Rugby and the International Olympic Committee among them – and formulated a draft bill that was presented to the Department of Legal Draftsmen for their deliberation.
A meeting was called for by the department in January 2014 to discuss and clarify certain issues arising from the proposed bill, and was to be sent to the Attorney General's department for approval.
However, three successive Sports Ministers – Aluthgamage, Navin Dissanayake and Dayasiri Jayasekera -- have not tabled the bill in parliament.
In 2016, Jayasekera had said that the bill was still to be approved by the Legal Draftsmen's Department.
The legislation is more prudent now than ever, in light of the recent revelations in Al Jazeera's documentary titled "Cricket's Match-Fixers" that implicated four Sri Lankans for their alleged involvement in pitch and match fixing.
A Galle Stadium Assistant Manager Tharanga Indika and a District Coach Tharindu Mendis were caught on camera discussing the possibility of preparing pitches to suit bettors, while former national cricketers Jeewantha Kulatunga and Dilhara Lokuhettige were seen agreeing to fix matches.
Indika, Mendis and Kulatunga were all suspended by Sri Lanka Cricket (SLC), pending the results of an International Cricket Council (ICC) Investigation that is underway.
However, there are no laws currently that would punish any offenders outside whatever sanctions are handed out by the ICC and SLC.
"Currently there are no laws in this country against match-fixing. If an athlete or official of a national sports association – be it cricket, football, rugby, volleyball etc – is caught in the practice, it is up to the relevant association to hand out a punishment. Beyond that, there is nothing that can be done legally," Attorney-at-Law Panduka Keethinanda, who was instrumental is drafting the yet to be legalized legislation and was the Secretary of the committee, told the Daily Mirror.
"Even though SLC has filed a complaint with the CID, there are no laws by which they can be punished. Bookies and match-fixers go scot-free," he said. "Not having laws against match-fixing only invites people locally and internationally to engage in it. If an individual is caught match-fixing, he cannot be arrested and therefore that encourages bookies to try and fix matches in Sri Lanka."
The law would punish offenders, both local and foreign, with upto five years imprisonment and a fine of upto Rs. 5 million – strong enough punishments to deter those considering engaging in match-fixing.
"The draft that we have prepared has to be implemented immediately after going through the proper process and the legislature implemented through the parliament, and bring this law into force to make sports free and fair. That way we can maintain integrity in sports," Keerthinanda said, adding that such laws were common in other countries.