Sri Lanka President Maithripala Sirisena (left) seen with Indian Prime Minister Narendra Modi during the latter's recent visit to Sri Lanka
The Indian Premier also spoke of setting up multi-lateral investment projects here and the interest in developing a port terminal

Modi was able to convey India's interest to all the key players in the Sri Lankan political scene

On the subject of setting foot in Sri Lanka, China is ahead of India. China administers one terminal in the Colombo Port already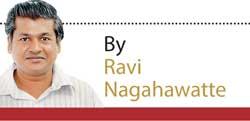 India's reelected Premier Narendra Modi's visit to Sri Lanka on Sunday (June 9) happened at a time of tension in the island. But the Indian statesman was all focused in achieving what he wanted and passing the message that Sri Lanka could look to India in its fight against terrorism.

The shrewd politician he is, Modi sent the message to the world that Sri Lanka was safe to travel to, knowing very well that there was a bigger war going on in the island where there is a political struggle for supremacy. At the time of landing in Sri Lanka, the host nation's President had warned lawmakers that he would not hold cabinet meetings; underscoring the fact that there was yet again a clash between the executive and the legislature.

Even the beating rain didn't dissuade the Indian premier from setting about his task as he roped in the island's premier, president and opposition leader for talks to back his cause.
Modi was like a school teacher and Sri Lanka's lawmakers flocked around him akin to students who would do as they are told. The minds of President Maithripala Sirisena and Premier Ranil Wickremesinghe are sharp, but they saw their oratory skills being blunt during this visit where Modi spoke about India's intention to play a key role in security matters which are of interest to both countries.

The Indian Premier also spoke of setting up multi-lateral investment projects here and the interest in developing a port terminal.

Sri Lanka's lawmakers truly know why Modi was here. His visit here is actually far removed from the thinking that India loves Sri Lanka. What India loves to see is a peaceful Sri Lanka. The island is geographically placed in the busiest East-West maritime route. Hence India's uneasiness when there is turmoil in Sri Lanka, especially when trouble is caused due to terrorist activities. For the record both countries have a history of fighting terrorism.

As much as India would meddle with Sri Lanka it also would with Maldives due to the same reason that the latter too is geographically positioned in this maritime route. Before Modi came to Sri Lanka he had visited Maldives and inaugurated a radar system and also setup a military training centre there.

A comparison with Premadasa

If one compares Modi with former Sri Lanka President the late Ranasinghe Premadasa there are similarities. Both leaders came from impoverished backgrounds with Modi said to have started life as a tea boy, helping his dad serve tea in Gujarat's Vadnagar Railway Station. But once becoming the heads of state they both worked in a manner that they pulled at the hearts strings of the downtrodden masses.

When Premadasa planned a project he made sure that all government officials whose approvals were needed to meet the nitty gritties of venture were present at the time of granting approval. Modi's thoughts were possibly on the same lines that of Premadasa when he met Sri Lanka's lawmakers in Colombo. The Indian premier made sure all stakeholders of Sri Lankan politics were informed of his intensions when he discussed matters pertaining to security. This is probably because Sri Lanka's political set-up is volatile and also because the country's presidential elections are just around the corner. However what mattered to the Indian premier was that he was able to convey India's interest

to all the key players in the Sri Lankan political scene; giving the message 'who ever who assumes power, this is India's wish'.

What seems to be coincidence is Ranasinghe Premadasa's son Sajith officially being assigned to accompany Modi during his recent visit to Sri Lanka.

Modi is aware of Sri Lanka's nature to lean towards China when it comes to development projects. China has a way of lending money and choking the borrower when the latter struggles to repay loans. A good example is the Government of Sri Lanka (GoSL) failing to settle a loan obtained from a Chinese bank to develop the Colombo Port. When the GoSL defaulted in the loan payment, the Chinese Government then possessed the port signing a 99-year lease. China has a similar track record in Kenya.

But Modi has assured Sri Lanka that it would be one among other Asian countries that would benefit from India's 'Neighborhood First' programme. Through this programme India has assured that neighboring countries in the Asian region would be given priority when sharing the benefits of India's economic growth.

In the subject of setting foot in Sri Lanka, China is ahead of India. China administers one terminal in the Colombo Port already. What adds to the tension between the two nations competing to have a strong hold on the island is the tussle between Wickremesinghe and Sirisena and the business interests of the two statesmen being either for China or India. Not very long ago president Sirisena opposed a plan by Wickremesinghe to

rope in India to build a container terminal at the Colombo Port; possibly because China is already in the scene and managing one terminal. However the green light is said to be assured for a terminal operating company after fresh attempts were made to setup a joint venture between Sri Lanka, India and Japan. India, though resisting the presence of China in the region, would welcome any project that Japan is involved and caters to its (India's) interests.

One of India's true concerns about Sri Lanka is the peace within the island. A peaceful Sri Lanka would ensure a peaceful Indian Ocean. At this critical juncture a visit by the Indian premier to Sri Lanka boosts Sri Lanka's resolve which is to project to the world that it is a safe tourist destination.

But the big question India would pose to the Wickremesinghe-government is whether Sri Lanka can achieve lasting peace?