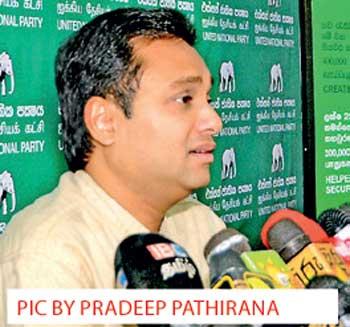 By Yohan Perera
Those eyeing the United National Party (UNP) leadership should be patient because they will be able to secure it at the appropriate time, MP Mayantha Dissanayake said yesterday.
He said this in response to a question by journalists on the future of the UNP and recalled that they should learn a lesson from his father the late Gamini Dissanayake.
"I sometimes feel sad about my father who formed a new party after a conflict with regard to party leadership. He had to form another party with the late Lalith Athulathmudali," the MP said.

He said the signals coming from the grassroots level is that the UNP should change and should come up with a new leadership. "Change of leadership is not just changing one individual and replacing him with another. What I mean by leadership is a group of people not just one individual," he said adding that a person like Ranil Wickremesinghe could not be removed from the leadership instantly because one has to understand that it was only he who could deal with any of the international leaders.
I sometimes feel sad about my father who formed a new party after a conflict which arose with regard to party leadership