Freedom Hub at Sapumal Foundation
Mangala's Freedom Hub Champions Creative Enterprise For Matara Youth.
By: Chanchala Gunewardena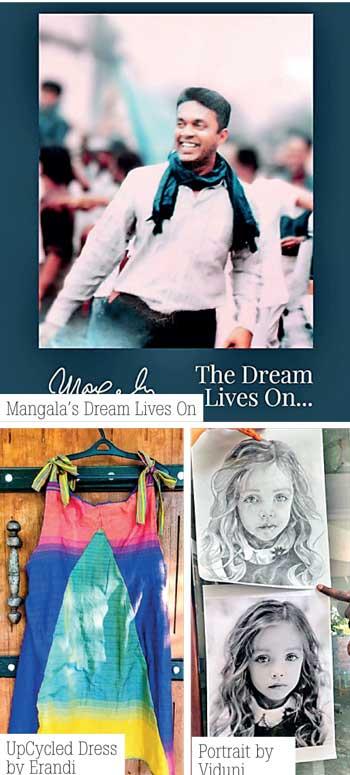 As the second anniversary of the passing of the late Mangala Samaraweera approaches on August 24th, we catch up on his final project, Freedom Hub, which merged his beginnings as a designer-teacher with his later career as a national-level visionary was relaunched in his Matara home this Feb- June 2023 with a focus on 'Creative Enterprise'.
Over a 3.5-month pilot programme, eighteen Matara participants aged between 17- 35 were provided foundational English language support and confidence building in its use. The core of the programme though was fostering exposure to creative and entrepreneurial thinking, and its results have been very exciting and impactful for some participants, while also showing noteworthy spaces for further focus and development.
The Creative Enterprise component of the programme utilised a two-day visitation and workshop format from established and rising star creatives including Sovereign Asia Art Prize winner Pala Pothupitye (a Matara native); Royal College of Art educated digital and canvas artist and architect Bilaal Raji Saheed; Independent Fashion and Commercial Filmmaker Harin Katipearachchi; and self-taught artist and creative consultant Mayun Kaluthanthri.
With each there were important takeaways; Pala demonstrated how he utilized discarded materials to craft his early art & how to look beyond standard formats of aesthetic appeal, something Freedom Hub-ers put into practice with throwaways from their own homes. Both Bilaal and Mayun shared the act of sketch-book keeping and their art-making process - Bilaal keeping extensive physical sketchbooks and Mayun with a mix of physical and digital archiving of inspiration. Bilaal then workshopped with Freedom Hub-ers on how objects of nature can inspire the creation of new structures. Harin shared not only his work but how he plans and manages his business and business activity through spread-sheeting, thereby bringing grounding practicality to Freedom Hubs' aspiring creatives.
Freedom Hub-ers also visited Colombo where they were given a tour of the Sapumal Foundation by Rohan de Soysa himself (Mangala's once photography teacher) and also visited Barefoot to experience how the artistry of the late Barbara Sansoni birthed a fundamentally creative-centred business.
Beyond these programmes, I, Mangala's niece and entrepreneur, Chanchala Gunewardena, facilitated overviews of the works of animator Irushi Tennkoon, and late greats Geoffrey Bawa and Ena de Silva - and found it promoted discussion and understanding of contemporary and aspirational Sri Lankan excellence. International influences such as the story of Bangladeshi adventurer Wasfia Nazreen, Pakistani artist Shazia Sikander, Nigerian writer Chimamanda Ngozi Adichie, American and British pop albums the 70s and 80s (including Mangala's favourite David Bowie), and the award-winning silent animation Paperman were also shared - broadening international exposure in a distinct way.
The English aspect of the programme promoted a better understanding of the speakers and materials presented. In-house English teacher Shandykumary Karunanithy, a graduate of the Asian University for Women, Bangladesh and the Tea Leaf Vision in Maskeliya led the challenge to teach across varying skill levels, and also fostered an open and understanding learning environment, and was on several occasions supported by Matara based Richard Lundt, a once acting head and English teaching lead at the British Council.
Mid-way through the programme, on Mangala's April birthday, two Freedom Hub-ers had the unique opportunity to share their story as lead speakers at a private event attended by H.E President Ranil Wickremasinghe, H.E. Former President Chandrika Bandaranaike Kumaratunga, Ambassadors / High Commissioners, and Mangala's parliamentary colleagues across parties, and friends and family. It was the first such opportunity for both speakers, and they presented in English with the confidence and training from the programme.
As the pilot concluded several students have exciting projects and highlights from it. Matara-based Development officer, Dinithi was able to utilize her English skills on a visit to her office by Canadian High Commissioner, Eric Walsh, speaking directly about the on-ground work of her fellow officers. Dinithi, a mother of two, has also created a hand-embroidered linen tote bag line centred on trilingualism and her love of Sri Lankan flowers.
Viduni, a recent A/L graduate, completed her first-ever portrait within the classes workshops and it has given voice to her hidden talent and passion for art. She continues to practice her art, with a now particular interest in Cubism, while she studies psychology in Colombo.
Erandi, a seamstress with fashion designer dreams was inspired to start her own sketchbook and think sustainably to create both her first original dress and make-up cases with up-cycled saree material from her workshop and community.
Ravishan, an aspiring nurse, comes from a family and area where jewellery making is practised and made his first samples of copper jewellery design.
Finally, Serana, an already budding fashion retailer with a 20k+ brand following on Facebook, utilized Harin's programme on fashion video and budgeting to oversee her first-ever brand commercial, even securing a foreign model to work with her in the process.
The project has set the stage for further focused programming in art and design coming in the fall and will support a more significant collaboration in contemporary art and music for tourism and economic revival in Matara in 2024. Follow Freedom Hub on Facebook and www.samaraweerafoundation.org/freedom-hub for more.