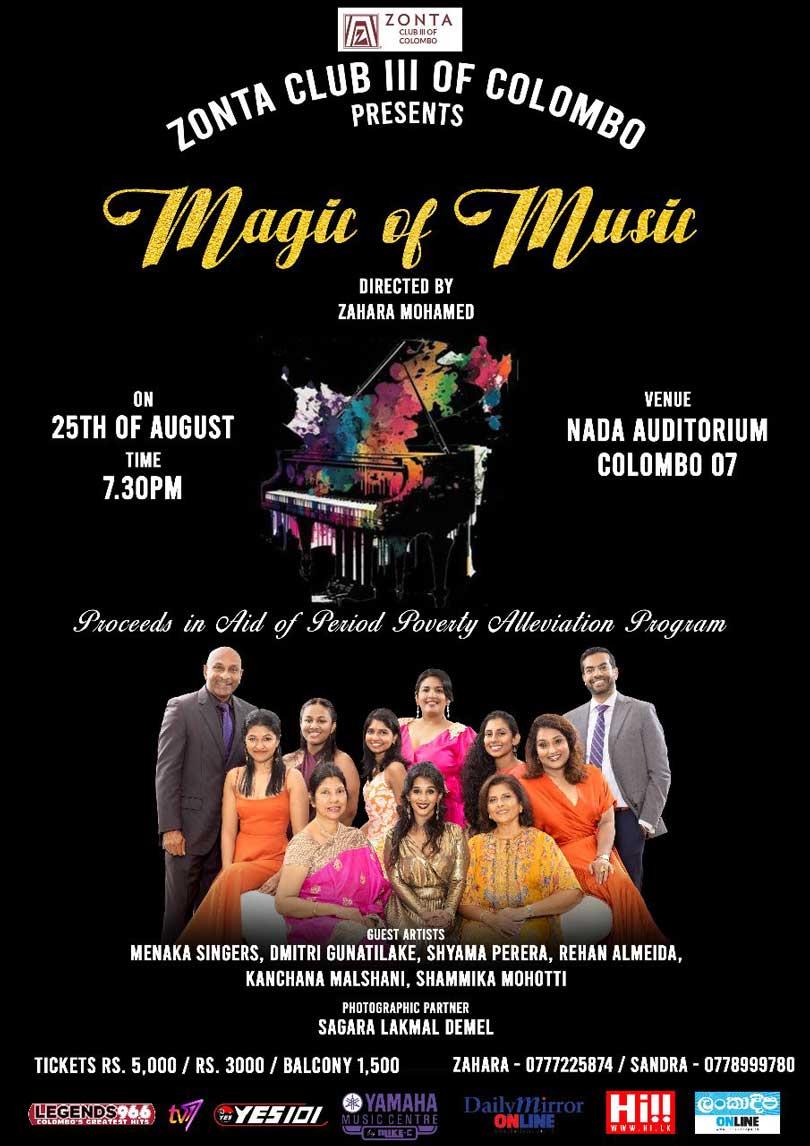 By: Tamara Perera
In a harmonious blend of melody and benevolence, Zonta Club III of Colombo is all set to enchant music enthusiasts and philanthropists alike with their upcoming concert titled 'Magic of Music.' This not-to-be-missed musical extravaganza not only promises to captivate hearts but also aims to make a significant impact on a pressing social issue. As the curtain rises on this noteworthy event, the club is fervently dedicated to raising funds for their Period Poverty Alleviation Programme. The convergence of artistry and altruism has never been more melodious.
Can you share the inspiration behind the concept of 'Magic of Music' and how it ties into your club's mission?
Kamini: Zahara is a dedicated music teacher and a past Zontion who was looking to celebrate the milestone of her musical journey and we at Zonta Club III of Colombo jumped at the opportunity of combining her milestone event with the cause of Zonta. We knew this would be an ideal opportunity to carry our cause of alleviating period poverty, not only to fans of music but to the entire country. It is time we realize the gravity and scale of this often hidden problem in our society.
Zahara: I've been teaching music for 25 years now. The first eight years were focused on the double keyboard organ, and then I transitioned to teaching piano. I believe it's time to pay tribute to my wonderful teachers who have been an integral part of my life since childhood. Two of these cherished mentors, Mrs. Joy Ferdinando and Mrs. Vilma Varnakulasinghe, have unfortunately passed away. I am forever grateful to them. My journey in music began at the tender age of four with Mrs. Shyama Perera as my organ instructor. She became my inspiration and guided me throughout. Under her mentorship, I began teaching at the age of sixteen. Her influence has greatly contributed to the person I am today. Presently, I am receiving piano lessons from my beloved Aunty Ramya De Livera. She is not only a remarkable teacher but also an inspiration as a passionate musician and a wonderful human being. This tribute is also dedicated to my dear parents, Ikram Mohamed and Zeena. Their trust in me and my chosen path, despite our family's background in law, has been invaluable. My musicality is influenced by my grandfather, Mr. Yousuf, who is also a lawyer. Despite his and others' legal careers, I was encouraged to follow my musical dreams from a young age.
The Magic of Music is born from these influences, a tribute to my teachers and parents, and a celebration of my students. Some have chosen music as a career and are thriving as performers and educators. Others have integrated music into their lives, enhancing various pursuits with grace and perfection. Learning an instrument imparts patience and the pursuit of excellence, qualities applicable to any endeavor. This celebration is intended to support a good cause. As a Zontian, I'm familiar with the impactful work they do. Through this collaboration, I hope our efforts and time will benefit those in need. It's a way of ensuring that our celebration has a meaningful impact on someone's life.
The concert's purpose is to raise funds for the Period Poverty Alleviation Programme. Could you tell us more about this initiative and its importance?
Kamini: Allow me to share some insights about period poverty and its impact in Sri Lanka, particularly on the lives and education of young girls. Period poverty denotes the lack of menstrual education and limited access to essential sanitation for maintaining basic hygiene during menstruation. A study conducted by UNICEF has unveiled that 60% of school teachers in Sri Lanka regard menstrual blood as impure, while 80% believe that bathing should be avoided during periods. An Advocate survey carried out in 2022 discovered that around 50% of the 5.3 million women aged 15 to 47, who are in their reproductive years, experience period poverty due to the inability to afford sanitary products. Consequently, numerous schoolgirls opt to stay home during their menstruation days, which is disheartening given that women constitute 52% of Sri Lanka's population. Frequent absenteeism directly affects the quality of education these young girls receive. The lack of access to menstrual hygiene products leads to the use of makeshift and unsanitary alternatives, resulting in hygiene management issues that can lead to infections. A study investigating cervical cancer risk factors in India established a direct correlation between using cloth during menstruation and the development of cervical cancer. Cervical cancer happens to be the second most common type of cancer among Sri Lankan women today. Zonta is deeply committed to enhancing access to education for women and girls. At the Zonta Club III of Colombo, we are dedicated to this cause, striving to build a better world for women and girls.
What can attendees look forward to in terms of the musical performances lined up for the event?
Zahara: The musical line up is full of variety, I teach classical piano, but love the other genres. So everyone has something they would love at this concert. We've chosen from J.s Bach to Catherine Rollin, making an interesting combination of classical, jazz to some well known melodies from the past. It's definitely an enjoyable line up of music.
The Zonta Club III has been known for its impactful projects. How do you envision the funds from this concert making a difference in your Period Poverty Alleviation Programme?
Kamini: This year, we initiated the Period Poverty Program, which involves visiting underprivileged schools in Colombo and nearby areas. Our focus on this particular region in phase one is based on several considerations. These include the congestion in housing units, which often limits privacy, the presence of an urban society that places greater peer pressure on girls toward socially adverse activities, and the higher negative social exposure that girls face compared to those in rural areas. We have developed a comprehensive workshop for school girls starting from grade 06 and beyond. The aim is to provide them with knowledge about menstrual hygiene and the biological aspects related to menstruation. This approach allows the girls to gain an understanding of the topic outside the classroom environment.
Additionally, an officer from the Police Women and Children's Bureau educates the girls on how to navigate the negative pressures exerted by society. The program also educates them about their rights as girls and the legal provisions available for their safety and redress. Experienced facilitators lead these workshops, maintaining a lighthearted and enjoyable atmosphere while effectively conveying the important messages. In addition to the knowledge shared, the girls receive an adequate supply of menstrual hygiene products. We also encourage schools to establish pad banks, for which we donate menstrual hygiene products. This serves as an incentive for girls in need to attend school during their menstruation without facing stigma. The funds raised from this concert will significantly contribute to expanding our reach to school girls all across the country. Our goal is to extend our impact beyond urban centers to more remote areas, ultimately reaching a greater number of girls and making a more substantial difference."
Concerts often involve collaboration with artists and performers. Could you shed light on any notable collaborations for 'Magic of Music'?
Zahara: I've always had other great musician's guidance and care since performing as a child, so definitely having these artists sharing the stage with me was something close to my heart. Shyama Perera my guru will be doing a duet with me , and some other significant artists are Ms Menaka Sahabandu with her choir, Dmitri Gunatilake who has a voice of a nightingale, my own sister Mariam Mohamed who rarely agreed to sing but is doing it for me with her daughter Ayra, a classical guitarist Sagara Lakmal de Mel, who is a leading photographer today that I've worked with on a tv programme as a child , whose own daughter is my student, and Rehan Almeida a good friend I've made who is a brilliant lawyer with many talents. So everyone I have on my team are definitely a part of my world and are happy to make the magic of music sound magical.
For those who are interested in attending 'Magic of Music' and contributing to the Period Poverty Alleviation Programme, what are the details they need to know regarding date, time, venue, and ticketing?
Zahara: Magic of Music will be held on Friday, 25th August 2023, at the NADA Auditorium, Colombo 07 from 7:30pm onwards. Tickets are priced at Rs. 5,000, Rs. 3,000 and Rs. 1,500 and you can contact Zahara on: 0777225874 or Sandra: on 0778999780 for reservations.
The 'Magic of Music' concert is poised to harmonize the worlds of art and compassion, promising an evening of soul-stirring performances while championing a cause that impacts the lives of many. The Zonta Club III of Colombo's dedication to bringing about positive change through music and philanthropy serves as an inspiration to us all.