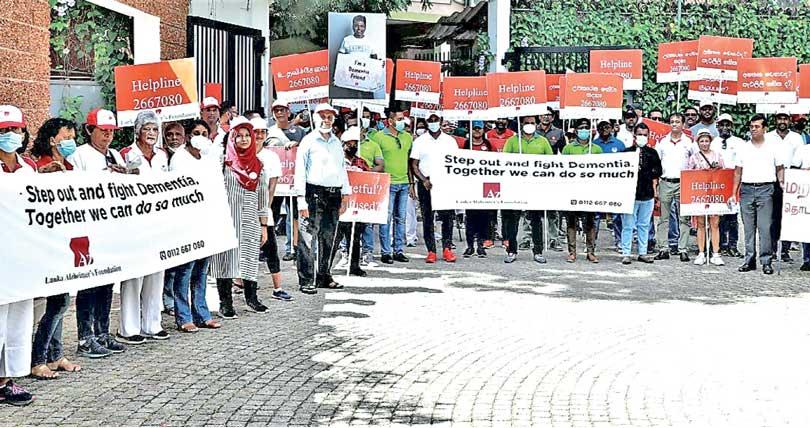 Others interested in joining could enroll through the LAF Facebook Page or by calling 0777235674.
In September each year the world makes it a point to remind everyone that as we age, several of us will lose our power to remember as we succumb to the condition of dementia. Dementia is the general term for loss of memory, language skills, problem-solving and other thinking abilities, most commonly caused by Alzheimer's disease.
The Lanka Alzheimer's Foundation (LAF), a member of Alzheimer's Disease International (ADI), will join the world in bringing attention to dementia, particularly in the context of Sri Lanka's ageing population, the highest in South Asia. Apart from the ongoing activities that LAF engages in, from conducting awareness sessions with elders' groups, family members and caregivers to memory screening, September will see three high profile activities to draw public attention and create awareness.
The first of these - a 5 km run titled "Run to Remember", will kick-off at the Taj Samudra Hotel North Lawn on Saturday 2nd September at 4:00 pm. The run is revived after a break of 3 years due to the pandemic and other crises that followed. The Taj Hotel is sponsoring this event for which over 50 runners have already enrolled. Others interested in joining could enroll through the LAF Facebook Page or by calling 0777235674.
This will be followed by a new phase of the dementia awareness programme which will edutain on the subject – especially the risks, preventative actions and caregiving, through a puppet show produced by the Power of Play group and its Artistic Director Sulochana Dissanayake featuring her highly popular Mahadenamutta and Golayas. This will travel as a roadshow from Colombo to Gampaha and Galle starting on World Alzheimer's Day on 21st September. Details will be shared via LAF's Facebook page and the media.
The third activity will be a "Memory Walk" to highlight the importance of both physical and mental activity to reduce risks as we grow older. This is in keeping with this year's World Alzheimer's Month theme that it is 'never too early, never too late' to identify and reduce risks, and will also constitute a propaganda exercise with walkers carrying signage. This will start at 7.30 am on Saturday the 23rd of September from the Cinnamon Grand Hotel which is sponsoring the event. Those interested in joining the walk could find more details on the LAF Facebook page.