---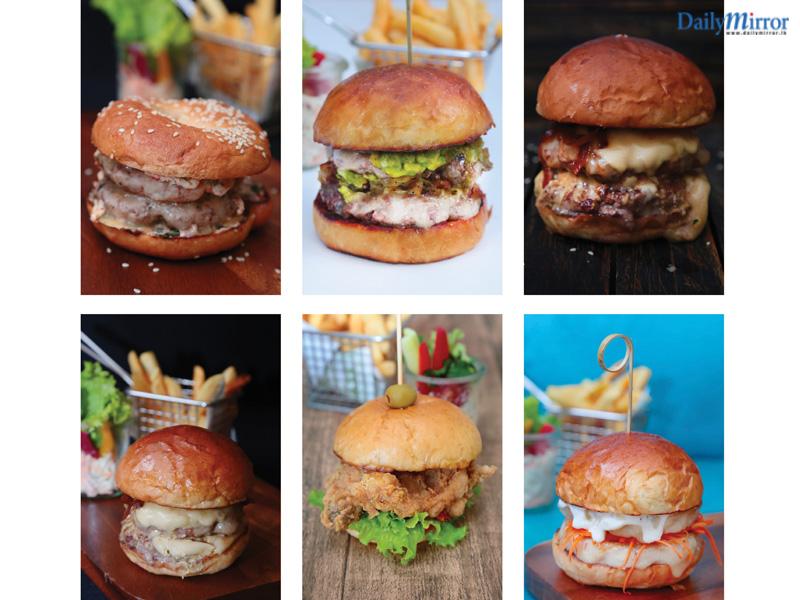 Café Kai at Hilton Colombo presents unique gourmet burgers from 18th to 27th July, 2019. The gourmet style burgers have an international flavor and include THE CRABZILLA from Japan, NY BLACK IRON BURGER from USA, The Asian CHEESY SHRIMPS, SAMURAI PORK BURGER from Japan, BAGEL & BURGER from USA and THE SRI LANKAN.
The Crabzilla comes with Crab meat and shrimps in thick batter, on a white soft roll with kale lettuce topped with Japanese wasabi mayonnaise served with spiced French fries and coleslaw. The NY Black Iron Burger consists of a homemade prime beef patty topped with cheddar cheese, caramelized onions, French Dijon mustard on white bun with spiced French fries and coleslaw. The Cheesy Shrimps consists of chopped shrimps in a cheesy cheese patty on a potato bun garnished with carrot julienne, garlic curd served with spiced French fries and coleslaw. The Samurai Pork Burger consists of Pork tender with belly on soda roll with cheese, hash brown, jalapenos, guacamole and spiced French fries and coleslaw. The Bagel & Burger has a beef & Kurobuta pork patty on a bagel, topped with cheese and spicy mayo curry leaf dip served with spiced French fries. The Sri Lankan consists of marinated crispy chicken on a curry leaf bun, deviled curry leaf dip, garnished with greens and tomato, served with spiced French fries and coleslaw.
The star burger is the NY Black Iron Burger which is highly recommended by Executive Chef Robert Mujagic. "We've got the perfect burgers for all burger lovers" quotes Robert. If you are craving for a burger and lazy to walk-in, you can call Café Kai on 2492492 and place your order and when you drive up to the Hilton Colombo they will deliver to your car.
The international gourmet burgers price ranges from Rs.1,688 to Rs.1,988 inclusive of taxes and are available for dine in or take away from 11am to 10pm.
For details on what's happening at the Hilton Colombo please contact the F&B Reservations Desk on +94 11 2492492 or log on to www.hiltoncolombo1.com or facebook.com/Hilton