---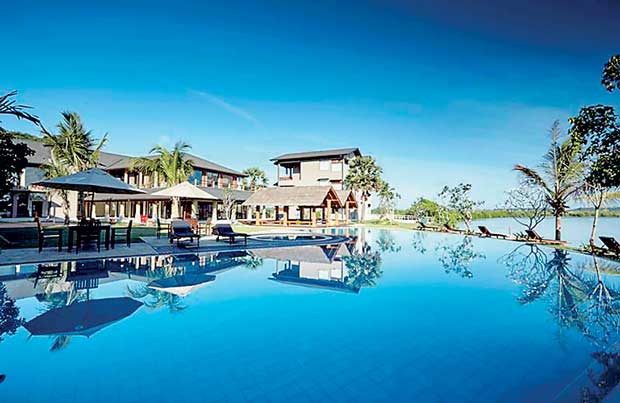 No one demands quality more than the customer, who is willing to pay the price for it. The Italian luxury fashion brand, Gucci, has a slogan, "Quality is remembered long after the price is forgotten." And when quality is the very essence of existence, like at Amaranthé Bay Resort & Spa, it follows that most customers are delighted.
Consistent rave reviews about the boutique hotel on the website of international booking engine TripAdvisor, led it to select the newly built Amaranthé Bay Resort for the Trip Advisor 2016 Certificate of Excellence. The award reflects "the consistently great reviews earned on TripAdvisor." A wonderful first birthday present!
Since the hotel's launch in June 2015, Amaranthé Bay was described by TripAdvisor as "the most popular seaside resort in Trincomalee", for many reasons.
Firstly, Amaranthé Bay is a chalet-style luxury boutique hotel, not located by the beach, but by the PillaikulamAru River in picturesque Uppuveli, 6 km (3.72 miles) north of Trincomalee town. The fact that it is situated by the lagoon with the nearby beach, is a great attraction to tourists seeking a calm and peaceful atmosphere. The "jungle-like surroundings" as described by one delighted customer, ensures scenes like bullock cart crossing the river, awe-inspiring scenes of dolphins at play, and the privacy and seclusion of dense green mangroves teeming with aquatic life. The ever-changing vibrant colors of nature make dinner under the stars by the river, a romantic fantasy.
Amaranthé Bay, with its enchanting surroundings, is also sensitive to the needs of more adventurous guests, who wish to discover and experience the wonders of nature. The hotel offers, a free boat service to ferry guests to and from the nearby beach, reasonably priced kayaking and canoeing facilities for a quiet, refreshing paddle on the shallow lagoon. Guests are able to explore the area using hotel bikes on the quaint streets of Uppuveli and meet with friendly locals to add to memories.
Above all, guests are bewitched by the tastefully decorated spacious rooms and suites that provide a therapeutic interval for weary travelers. They are especially thrilled with the unique feature of Amaranthé Bay accommodation, of private Jacuzzis in the bedroom with a magnificent view. They enthusiastically recommend to fellow travelers that they should choose the upper floor suites for a view of a lifetime.
Most guest reviews of Amaranthé Bay include a passionate desire to revisit the hotel. As Walt Disney said, "Do what you do so well that they will want to see it again and bring their friends."
Amaranthé Bay, just one year old, has been showered with accolades that match its delivery of a promise to pamper its guests.