---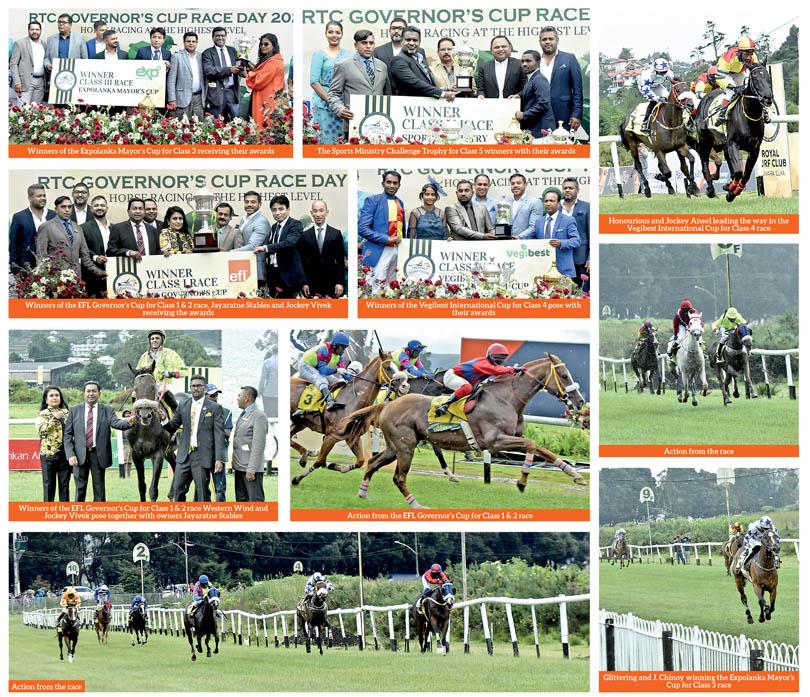 ---
By Shannon Nicholas
Western Wind ridden by Jockey Vivek claimed a resounding victory in the EFL Governor's Cup for Class 1 & 2 at the Royal Turf Club (RTC) organised RTC Governor's Cup 2021 carried out at the picturesque Nuwara Eliya racecourse yesterday.
The duo swept away to victory in the 1800m race ahead of a strong line-up which consisted of past winners in the likes of Alcazaba, who was widely tipped to win, Meheran and Spirited Touch among others.
After stubbornly refusing to be stalled, Parushram got off to a flying start and held on to the lead which lasted till the second bend.
Western Wind took charge just before the final bend and cantered its way to glory ahead of Alcazaba, who was placed second alongside Jockey J. Chinoy while Spirited Touch and Jockey Aneel came in at third.
Earlier, Miss Ivory, ridden by K. Sanjeewan, won the Class 5 race for the Sports Ministry Challenge Trophy in the first race of the day.
It was a comfortable win for the duo who held the lead from start to finish in the 1400m race.
Goldie Girl and Jockey J. Chinoy, who played second fiddle for most of the race, had to settle for third place after being pushed back by Waiting for Glory and Jockey R. Valbhav in the final few metres of the race.
In what turned out to be an exhilarating finish, Honorious and Jockey Aneel made a brilliant run in the final furlong to claim the Vegibest International Cup Class 4 1400m race which was the second race of the day.
Night King and Tuscano were the runaway leaders at the start while Zulu Fantasy and Torpedo looked like they had it in the bag until the champion duo spoiled their plans in the final seconds.
Torpedo and Jockey Sanjeewan was placed second while Zulu Fantasy and Jockey Chinoy finished third.
In the Expolanka Mayor's Cup for Class 3 1600m race, Glittering snatched a last-gasp victory together with Jockey Chinoy, ahead of Vigorous and Jockey S.D. Janaka who had to settle for Silver. The latter led the race until the final stretch after getting off to an electric start but fell short ultimately at the expense of the champion duo. Olive and Jockey Aneel were placed third.
In the penultimate race of the day, Another Ace, ridden by Vivek, came from the wider-outside of the track to claim a comprehensive win in the Classic Travel Queen's Cup. With a total of 2000m ground to clear, the duo was well ahead of the pack after taking the pole position from Star Scholar at the first bend.
Silver Streak and Star Scholar gave the winners a scare in the final stretch, but had to settle for second and third places respectively.
The raceday signified a return of horse racing at the highest level in 'Little England' for RTC, who oversaw a successful event last month in the RTC Spring and Summer Raceday Cup.
Results:
Race 1: Sports Ministry Challenge Trophy for Class 5 (1400m)
1. Miss Ivory (K. Sanjeewan)
2. Waiting for Glory (R. Valbhav)
3. Goldie Girl (J. Chinoy)
Race 2: Vegibest International Cup for Class 4 (1400m)
1. Honorious (Aneel)
2. Torpedo (K. Sanjeewan)
3. Zulu Fantasy (J. Chinoy)
Race 3: Expolanka Mayor's Cup for Class 3 (1600m)
1. Glittering (J. Chinoy)
2. Vigorous (S.D. Janaka)
3. Olive (Aneel)
Race 4: Classic Travel Queen's Cup for Class 2 (2000m)
1. Another Ace (Vivek)
2. Silver Streak (L. Dayalan)
3. Star Scholar (R. Valbhav)
Race 5: EFL Governor's Cup for Class 1 & 2 (1800m)
1. Western Wind (Vivek)
2. Alcazaba (J. Chinoy)
3. Spirited Touch (Aneel)