---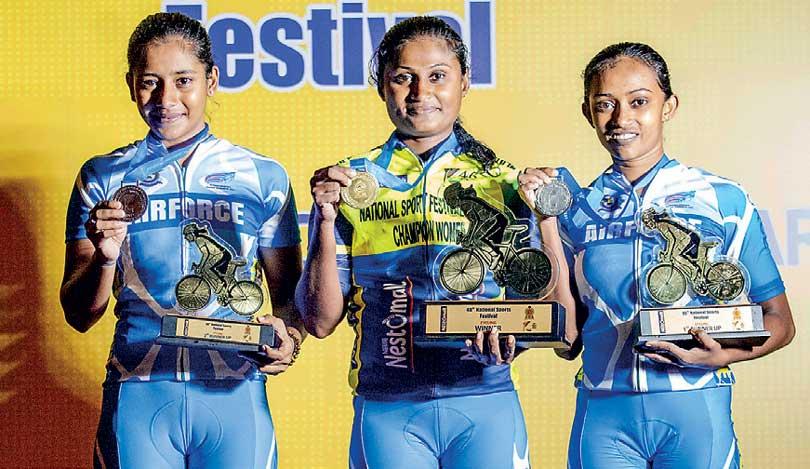 The top three finishers (from left) Udarika Priyadarshani, Dinesha Dilrukshi and Anne Shenalika
By Susil Premalal
Air Force's Dinesha Dilrukshi, a silver medaist at the 13th South Asian Games (SAG) in Kathmandu, won the gold medal in the women's cycling race at the 46th National Sports Festival in Katharagama.

Organised by the Sports Ministry, Dilrukshi won a closely contested clocking a time of two hours 26.20 minutes. Udeshika Priyadarshani representing North Western Province was declared second after a photo finish and clocking the identical time of 2:26.20 as the winner.

All three top finishers were from the Air Force. The bronze medal was won by Anne Shenalika from Western Province clocking 2:27.03.

The 78km women's race consisted of two rounds from Katharagama to Lunugamwehera and back.

The women's riders maintained a speed of 32kmph, according to Upul Chandana, president of the Sri Lanka Cycling Officials Association.

This is the second competition in which women's winner Dilrukshi took part this year. She was placed third in the Tour de Sri Lanka Air Force race earlier.